3 of Brisbane's best markets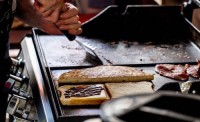 Brisbane has some fantastic markets, whether their focus is on food, art, rarities, secondhand goods or all the above. For today's blog, we've listed three that often come to mind for locals, from the daytime Rocklea Markets to the almost exclusively night-time Eat Street Markets.
1. Brisbane MarketPlace Rocklea
Every Saturday and Sunday, Brisbane MarketPlace Rocklea – much more commonly known as the Rocklea Markets – take place. On Saturday, it's all about food – fresh produce, snacks and meals, and more. On Sunday, the focus shifts to bargains – secondhand products including furniture, CDs and DVDs, toys, books, and more. So if you're a food lover, head over on Saturday. If you're looking for some potentially interesting items to add to your home or personal collection, go Sunday. Both market days run from 6 am to 12 pm.
You can find out more here.
2. Boundary Street Markets
Over West End way, the Boundary Street Markets combine many of the best features of any market. Food, fashion, secondhand goods and rarities, live music, and drinks. Not only does this run on Saturday and Sunday (during the day), but there's also the Friday night version that's designed more for those who enjoy the nightlife – it comes with a bigger focus on live music and drinks. The times are as follows:
Friday: 4pm to 10pm
Saturday: 10am to 10pm
Sunday: 9am to 2pm
You can find out more here.
3. Eat Street Markets
As far as markets go, Eat Street has managed to become one of the most popular in Brisbane. So significant is its standing that it was chosen to relocate to the Story Bridge for the landmark's 75th birthday celebrations. On a normal day, however, it takes place at Hamilton Wharf. Inspired by Asia's bustling street markets, Eat Street aims to create the same experience, offering a wealth of delicious international delicacies that are complemented by an assortment of drinks and live music.
Currently, Eat Street takes place on Friday and Saturday nights (4pm to 10pm), and during the day on Sunday (10am to 4pm).
You can find out more here.
---