4 options for a memorable Australia Day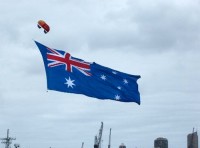 Australia Day's almost here, so today's blog will take a step away from the world of logistics and instead offer some ideas of what you can do to make this Australia Day a memorable one.
Embrace the Aussie theme
It's Australia Day, which makes it the one day where all Australians can jump right into the spirit of what it is to be Australian. Australian flag morphsuits, beers, overly Australian meals (prawns on the barbie, anyone?), and a colour theme of red and blue or green and gold. No matter what you do, it's a day to unwind and be proud of where you are and where you're from.
Get the neighbourhood involved
Are you close with your neighbours? Then there's always the option of inviting them to join in on the festivities. If you live in a quiet neighbourhood with a cul-de-sac, there's always the potential to have a street party – provided everyone on the street is happy to do that. It's a great way to get to know your neighbours more or, if you have the aforementioned close relationship with them, a way to solidify that relationship while celebrating a day of mateship.
If you're on a busier road, it may be time to hold the celebrations on the deck or in the backyard of someone with enough space space. Either that or it can be split between a couple of backyards.
Watch some Australian films
Here you can either watch Australian films or films that were the original brainchild of an Australian. So you could go with an Aussie family-friendly classic such as The Castle, or opt for an international film such as the not-so-family-friendly Collateral, which was written by Aussie Stuart Beattie. If you're a fan of horror, there's The Babadook, an Australian film released last year and considered one of the best horror films in several years. There are plenty of genres to choose from when it comes to films that Aussies helped bring into creation.
Throw a Triple J Hottest 100 party
It may not be for everyone, but if you have a good number of friends and family who enjoy Triple J or, at least, its Hottest 100 countdown, then throwing a party is certainly worth doing. Starting at 12pm (AEDT), the Hottest 100 does have your music needs covered, even if just as something ambient for the day and night. For those more passionate about the Hottest 100, you could always place small bets on who will win or at least claim bragging rights if your song appears higher in the list than your friends'.
* Image source: FreeAussieStock
---