5 Great Road Trip Movies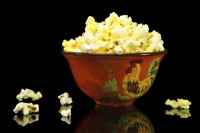 In past blogs we've spoken about what precautions to take on road trips. Now we're going to look at the joys of road trips.
To do this, we have chosen five much-loved road trip movies which embody the true experiences that road trips inspire, be it the good or the bad. Without further ado, let's get started.
1. Thelma & Louise (1991)
While the initial event that inspires the road trip in this film is less than pleasant, Thelma & Louise has made its way into the unofficial road trip film hall of fame because of the way in which it explores the true value of friendship. On the run from the law, Thelma and Louise take to the open road to avoid cops and form an unbreakable bond along the way.
2. The Straight Story (1999)
While it isn't as ubiquitous as most of the other films in this list, The Straight Story is an endearing film about a dying WWII veteran who travels across the US on his ride-on lawnmower to meet up and make amends with his brother. Directed by David Lynch, it's a departure from his usual otherworldly films and filled with heart.
3. Adventures of Priscilla Queen of the Desert (1994)
No road trip list would be complete without our very own homegrown gem. Following the story of three drag queens who head on a road trip to a cabaret gig in the middle of the desert, it was a genuine story about revelations and self-discovery.
4. Sideways (2004)
Sideways was a critical success that inspired a whole host of new wine lovers. Although it also caused a lot of people to suddenly declare pinot noir as the best wine in the world, Sideways itself was chiefly a story about two men who both evolved and overcame their problems and vices throughout the course of the film…while also drinking wine.
5. National Lampoon's Vacation (1983)
Love it or loathe it, National Lampoon's Vacation is quite possibly one of the longest enduring road trip comedy films. It followed the Griswold family as they set out to visit Walley World by going on a good old fashioned road trip. Unfortunately, one mishap after another destroyed their enjoyment and all came to a head when they arrived at Walley World only to find it closed. The result was father Clark Griswold (Chevy Chase) having some form of a breakdown – all to humorous effect.
What's your choice for the top five road trip movies? Share with us in the comments below.
* Image source: Carlos Porto / FreeDigitalPhotos.net
---