5 Iconic Australian Landmarks
As the warmer months emerge and the year is coming closer to an end, now is the time that many families plan to head off on some holidays.
If you're planning to explore Australia and not head overseas, perhaps you could consider one of these following five iconic Australian landmarks that are results of our rich history or nature itself.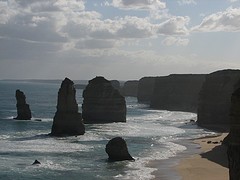 1. Port Arthur, Tasmania
Back in 1830, Port Arthur was founded as a penal colony that focused heavily on the supply of timber. By the 1840s there was a large convict popular of about 1,100. As time went on and the 1870s rolled in, Port Arthur's population left, leaving behind remnants of past life. Nowadays, visitors can visit Port Arthur and walk through the remnants of the buildings that were once used there. It's a crucial part of Australian history and should definitely be checked out if you happen to be down there.
2. The Twelve Apostles, Victoria
The Twelve Apostles are certainly an iconic landmark here in Australia. Reachable by taking a drive on the Great Ocean Road, they are a collection of closely residing limestone stacks that were formed as a result of erosion from powerful waves and winds. Despite, only eight limestone stacks remain, with the prediction that all of them will eventually collapse. Be sure to check them out before that happens.
3. Kangaroo Island, South Australia
Kangaroo Island is a stand-out landmark as it is a haven for native Australian wildlife. Along with that, Kangaroo Island is full of caves and stunning rock formations that any nature lover will enjoy.
4. The Great Barrier Reef, Queensland
We couldn't make a list without mentioning this gem from our state of operations. The Great Barrier Reef, as you probably know, is the largest reef system in the world, comprised of 900 islands and approximately 3,000 individual reefs. It is also the largest structure to be comprised of living organisms in the world.
5. Coober Pedy, South Australia
Coober Pedy is a fascinating place to visit as part of its town and population is based underground. A result of history, underground dwellings were built as a means to cope with the intense heat that hit Coober Pedy before the existence of more modern technologies such as air conditioners. It is also often considered the opal capital of the world.
The result is that you can explore old opal minds, visit underground churches and even stay at an underground motel in the township. It certainly presents a different experience from the norm.
Any other landmarks you'd like to share with us? Be sure to tell us about them in the comments below.
* Image source: edwin.11
---