5 important factors of the catering industry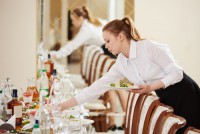 The catering industry is one that is under constant demand and that comes with its fair share of challenges.
While it's near-impossible to account for all potential challenges, accounting for some basics can help make the job more manageable. In today's blog, we've listed five important factors to remain mindful of if you're involved in the world of catering.
1. Dietary requirements
Being on top of all attendees' dietary requirements is an important aspect of catering. Whether we're talking about vegetarians/vegans or people with coeliac disease (gluten intolerance), you'll need to know numbers and how many vegan-friendly and gluten-free servings to make. If it's for an event where no specifics are known about each guest, just make sure to have diet-specific options available. That way, if someone tells you they're a coeliac or stick to a vegetarian/vegan diet, you can come back with food befitting of their requirements.
2. Customer service
Any industry where you have to deal directly with customers can have its ups and downs, especially when it comes to food and beverages. It's not just about accounting for dietary requirements, but also the fact that some customers can be, quite frankly, difficult to deal with. So whomever you hire, make sure they're prepared to take on some problematic clients from time to time. And remember not to take anything personally. More often than not, difficult customers are just difficult people in everyday life.
3. Account for the weather
Changes in weather can impact on the shelf life of food, as well as how long any item of food can remain at 'room temperature'. Many parts of Australia reach hot and humid summers that can drastically change the average room temperature, which can increase the growth and spread of bacteria of food. The higher the temperature, the faster bacteria breeds (of course, cooking temperature kills bacteria).
For many foods, refrigeration is important. Certain fruits and vegetables will be okay at room temperature (at least for the day), but meats, dairy products, certain beverages, etc. are better left chilled. If you need to thaw any food prior to a job, the best option is to allow it to thaw for 24 hours in the fridge. This avoids the food from heating up too abruptly, which would facilitate bacterial growth.
4. Hygiene is paramount
As you're no doubt aware, hygiene is absolutely essential when it comes to foodservice and food handling. Be sure to clean your hands regularly (or wear clean, disposable gloves) and don't cross-contaminate – so don't cut meat on a chopping board and then cut vegetables on it afterwards. Chopping boards should also be cleaned regularly and you need to avoid resting different foods together if they compromise specific dietary requirements (e.g. biscuits near peanuts if certain guests have a peanut allergy).
5. Supply
Catering is as much about maths as it is about food preparation and serving. While you do need to balance costs vs supplies, it's always best to have more than you need. Because even if you happen to end up in a situation where you'll need to throw out unused goods, it's better than running out and leaving your customers disenchanted over your service.
Need help getting your catering foodstuff from point A to point B? Give Cannon Logistics a call on (07) 3396 1911.
---