5 most dangerous Queensland roads for truck drivers
While the number of heavy vehicle accidents are decreasing in New South Wales, a new report by the National Truck Accident Research Centre has found an increase in Queensland's heavy vehicle accidents.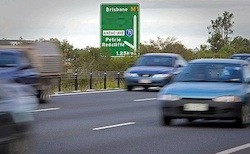 In a bid to lower these statistics, many roadwork schemes have been introduced for Queensland roads, but we are still unsure if this is enough. For even the most cautious truck drivers, unsafe roads can pose serious threats. Dangerous roads, in hand with driver fatigue, other dangerous drivers and bad weather conditions are recipes for disaster. Here is the list of the five most dangerous roads in Queensland.
1. The Bruce Highway from Cooroy to Gympie has been declared as the state's most dangerous route for truckies and other motorists. As one of the busiest highways in the state, statistics show that the Bruce Highway is struggling to keep up with the large number of heavy vehicles using the road. It accounted for huge 61% of road deaths and 50% of casualty crashes in Queensland between 2005 and 2009.
2. Second to the Bruce Highway, is the Warrego Highway. According to the National Truck Accident Research Centre, the Warrego Highway is one of the most dangerous highways in the whole of Australia – and it seems it is only getting worse. Earlier this year, police statistics showed the number of crashes on the Warrego Highway resulting in serious injuries have risen 30% over the past three years.
3. The Brisbane Valley Highway from Ipswich to Moore is another one to look out for. Critics blame the danger of this highway on the lack of overtaking lanes which can lead to irritated drivers. It is important to remember that if you feel that you want to drive faster along a certain stretch of road, wait until there is a safe place to overtake and avoid a collision.
4. The Captain Cook Highway south of Mossman also poses a threat to drivers with roadblocks and animal crossings leading the way as the primary causes of accidents in the area. Although the view is wonderful, this distraction can make it hard to concentrate on the driving. So make sure to keep your eyes on the road.
5. Last but not least is the Gillies Highway from Gordonvale to Yungaburra. The windy summit is one of the most dangerous places for drivers and has seen many serious accidents over the years. Fortunately, road rails and yellow markers have been installed to improve road safety, however much care should still be taken.
Although they are dangerous, these 5 roads are some of the most popular roads in Queensland and often cannot be avoided. Therefore, it is important to take specific steps to ensure safety behind the wheel. If you feel fatigued pull over and have a rest, don't speed, resist the temptation to use your phone while driving and perhaps, most importantly, keep calm – even if the drivers around you aren't.
---