5 Spring BBQ essentials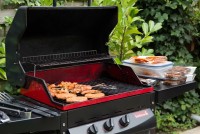 Spring is officially back for another year in Australia. As the days get longer and the temperatures grow, it's the perfect time to go back outside and enjoy a classic Australian barbecue.
How you enjoy a BBQ is really up to preference, but there always some essentials worth remembering so you can have the best time possible.
1. The food
Yes, it's obvious. A BBQ is typically always about the food and drink. Standing or sitting around, sharing stories, laughing and enjoying the smell of BBQ-grilled food are all great experiences. But don't forget to have food for everyone.
Are kids around? Don't forget to cook some smaller portions or offer alternative snacks. Any of your attendees Coeliacs? You'll need to have some gluten-free options on the table. There may be some vegetarians/vegans, as well, so have some vegan-friendly options ready in case. Importantly, don't forget that gluten-free and/or vegan-friendly food should be cooked on a separate grill to where you cook meat or gluten-rich foods.
When you invite people over, just ask outright if any of them have specific dietary requirements. If you're not sure what to make them, just ask.
2. Drinks
It's the second-half of any good BBQ meal, but you need to consider what you have in the same way you consider your food. Have soft drinks, juice and/or juice boxes (aka poppers) for the kids. Alcoholic beverages are always good for the adults, though remember not everyone likes beer – having some wine or a couple of cider options are a good bet. Again, account for dietary requirements, as well. And don't forget the classic and ever-plentiful water. It's great for kids, adults, designated drivers, or those who've had a little too much to drink.
3. Entertainment
Sure, what you're eating and drinking is a big part of having a BBQ, but it's also a chance to catch up with friends and family. But while there will plenty of talking, don't forget about entertainment. Allow people to kick a ball around or chill out and watch a movie. And don't forget music.
While you should offer a few means of entertainment for guests, you should not force anyone to take part in any of them. Just because you love playing cricket or kicking a ball around doesn't mean everyone does. Simply have them there for those who are interested; do not expect people to take part.
4. Shade (somewhere to cool off)
Depending on where you live in Australia, Spring can be a fairly hot affair. While time in the sun is good for you, too much may lead to heat exhaustion. If you or any of your guests feel like the heat's getting to them, they should have somewhere they can escape the heat.
Having shade set up outside is a good first move, but an indoor area where people can relax and literally chill out courtesy of fans or air conditioning is also a good move. If you have a pool and the water is back at nice temperature, that can help cool people's core body temperature. When someone's suffering from a touch of the heat, drinking water and staying hydrated is incredibly important.
5. Keeping everything else cool
Don't forget to look after your food and beverages to make sure none of them form bacteria from the sun. Beverages tend to hold up well, but keeping them the fridge or a few eskies will cover you. For the food, if you've frozen any of it, let it thaw out in the fridge overnight before the day of the BBQ. When you cook, make sure no meat is sitting out for too long prior to grilling it up on the BBQ. These are all simple rules, just don't forget to be mindful of them.
---