5 Unique Forms of Transport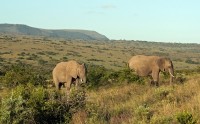 These days we've become used to the normal forms of transport that cover land, sea and air.
But what about those types of transport that make the whole travel experience a little different than usual? In this blog we're going to look at five unique forms of transport which stand out from the norm.
1. Tuk tuk
Believed to have had its origins either in Thailand or Italy, the tuk tuk truly stands out in India. Unlike other Asian countries that also use this 3-wheeled vehicle, Indiana tuk tuk drivers tend to operate the vehicles with a level of reckless abandon. Swerving in and out of traffic haphazardly while always pushing their top speed, being chauffeured around in one of these is simultaneously thrilling and unnerving.
2. Elephants
A literal huge attraction in Thailand, elephant riding has become one of the must-do tourist endeavours when in the country. Elephant riding tours have another purpose beyond boosting Thailand's tourism industry and economy, it's also done in the name of preserving the elephant population which has been climbing back from the threat of extinction in Thailand.
3. Bamboo train
In Cambodia, there is a unique type of train that runs between Battambang and Cambodia's capital, Phnom Penh. Made with a wooden frame, bamboo planking, upright engine and reused military tank wheels, the bamboo train shares tracks with Cambodia's actual true trains.
4. Camels
Another organic form of transport, camels are tourist attraction around the world, even here in Australia. In the country of Jordan, you can go on 3-day camel safaris throughout desert areas and visit notable archaeological sites.
5. Totora boat
A boat made from reeds, the totora boat is used to move people along Lake Titicaca in Peru. It is believed the boat's dragon-like design comes from Inca times when the design was believed to ward off evil spirits. Surprisingly strong, these boats offer a very calm ride and safe ride.
What other forms of unique transport do you think deserve mention? Share with us in the comments below.
* Image source: Maggie Smith / FreeDigitalPhotos.net
---