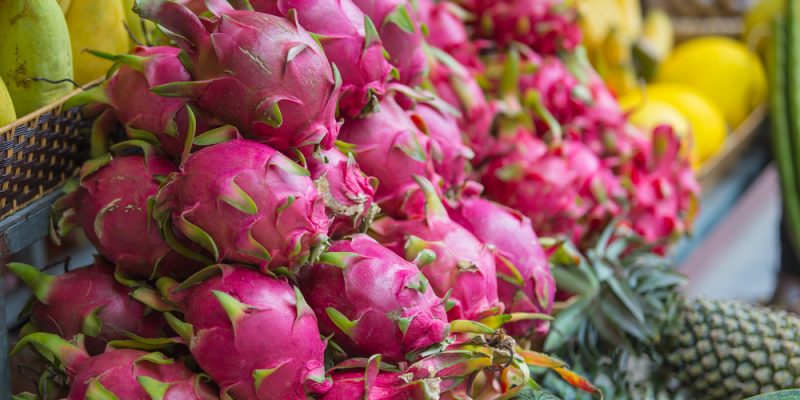 5 Unique and Exotic Fruits to Try This Year
Queensland is home to many species and varieties of tropical fruit. In this post, we share 5 unique fruits that are growing in popularity and are grown/imported locally.
Jackfruit
What is it? Native to Southeast Asia, Jackfruit is known to be the largest tree-borne fruit in the world. We grow it now typically in North Queensland, bug it is also grown in the Northern Territory. The starchy fruit has a subtle sweetness and an apple/banana flavour. When it's cooked, it takes on the flavour of other ingredients and shreds like pulled pork – making it a popular vegan meat substitute.
Where can you get it? Asian grocers and now even larger grocery stores like Coles or Woolworths occasionally have it.  
What can you do with it? Immature fruit can be cut up, used as a vegetable (boiled), pickled or canned in brine. Ripe fruit is eaten fresh or can be made into chutney, jam or jelly. Fresh bulbs can be preserved as candies by drying and mixing with sugar, honey or syrup. The pulp is used to flavour ice cream and milky beverages.
Cooked – it can become a deliciously, falling-apart mock pulled pork that could be used in tacos or in burgers with coleslaw. Its neutral flavour works brilliantly with strong flavoured sauces by soaking them all up.
Dragon Fruit (White Pitaya)
What is it? This colourful red and green cactus fruit has white or red flesh spotted with tiny, black seeds and has similarities in texture to kiwifruit. While the appearance is dramatic, the flavour is surprisingly subtle. The flesh is sweet to mildly sweet, with a light melon taste. Its high levels of the antioxidant phytoalbumin means it is considered a 'super food' in some countries.
Where can you get it? Asian grocers, fruit stores (for example in the Brisbane suburb of Toombul) or local outdoor markets like those found on the Sunshine Coast usually have dragon fruit. However, like Jackfruit, you can sometimes find it in Coles or Woolies.
It should be noted that dragon fruit produced here in Australia is sold on the domestic market and no other country has access to the Australian market for biosecurity reasons. The red-fleshed dragon fruit has a history of earning higher prices.
What can you do with it? Dragon fruit, like all exotic tropical fruits, is usually eaten fresh. The flesh is described as delicately sweet, crisp and refreshing. Dragon fruit may also be used in salads, fruit salads, marmalades, jellies, ices and soft drinks.
Custard Apple (Cherimoya)
What is it? Custard apples are a decadent and deliciously sweet sub-tropical fruit. The Australian custard apple is a hybrid of the sugar apple (Annona squamosa) and the cherimoya (Annona cherimola), and is unique to any other custard apples grown around the world.
Originally native to South America, Australia is now the largest commercial producer of this luscious and flavoursome fruit. The fruit is filled with a soft, custard-coloured flesh that gives it the nickname "custard apple." Some describe the taste as a combination of banana, pineapple, and bubblegum.
Where can you get it?  At the local outdoor markets (such as the ones at Palm Beach, The Gold Coast Turf Club, Brisbane and Noosa) and well-stocked fruit stores. There are four main custard apple growing regions, all found on the east coast of Australia. These regions stretch from the Atherton Tablelands in tropical North QLD down to Lismore in sub-tropical NSW, allowing for a great supply of quality and delicious fruit throughout the season.
What can you do with it? It can simply be spooned out of the skin or cut-up, although you'll have to work around the large seeds inside the flesh. It is luscious in creamy tarts, sorbets and ice cream.
Starfruit (Carambola)
What is it? The 'starfruit' was given its name by the star-shape appearance it has when cut. Carambola tastes very crisp, juicy and refreshing. Ripe, yellow fruit tend to be sweeter and immature, green fruit tastes more acidic.
Where can you get it? Like most exotic fruit, it is grown in Tropical Northern Queensland, but it can also be found in Darwin and the Northern coast of NSW. You can find them in some markets and Asian grocers, and occasionally supermarkets like Coles and Woolworths. 
What can you do with it? Carambola is usually eaten raw or juiced, but they're also known to make delicious and attractive garnishes to Pavlovas, fruit salads, gateaux's and platters.
Noni Fruit
What is it? Medicinally, this bumpy, greenish-yellow, grenade-shaped fruit is said to cure everything from stone-fish wounds to digestive upsets. Usually a concoction from the bark, leaves, roots and fruit is made. When ripe or overripe, the skin of the fruit becomes almost translucent and the flesh turns soft and develops an unpleasant odour.
Where can you get it? Also known as 'cheese fruit', you usually find them in Tropical North Queensland, but you can find the juice of the noni fruit in some specialty health stores around the country. 
What can you do with it? It tastes rather bland, which is why it is usually blended and juiced with other fruits. 
If you're looking for Refrigerated Transport in Bundaberg, please click here.
---