An update on Favulous Floyd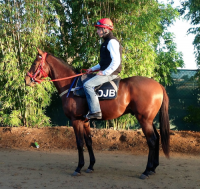 Cannon Logistics' owner-operator, Zac Popov, recently received an update on the progress of Favulous Floyd, one of Zac's horse racing passion projects.
News from Favulous Floyd's trainer shows that while he struggled with a slight underperformance a couple of weeks ago, a fortnight's worth of training with a good jockey has led to a marked improvement. The result of refinements to training and working to Floyd's strength led to positive returns. In a message sent to Zac, Floyd's progress was detailed:
"So Floyd went into the [new] race with nothing to lose and everything to prove and he did us proud. The race was run to suit him as there was very little pace on early so he was able to get balanced and travelled well. Jockey Tim Bell waited until he got him round the corner before he asked him to stretch out. Floyd's action was markedly improved by allowing him time to balance than it had been in his first start. Tim Bell commented that he still hasn't really let down fully so there is more improvement to come. They ran the last 600m in a respectable 34.37 seconds. The final margin was only 0.8L behind the favourite Planet America who scored his second career win from four starts."
With Floyd's best years still ahead of him, he will only continue to improve.
You can find out more about Favulous Floyd via this website.
---