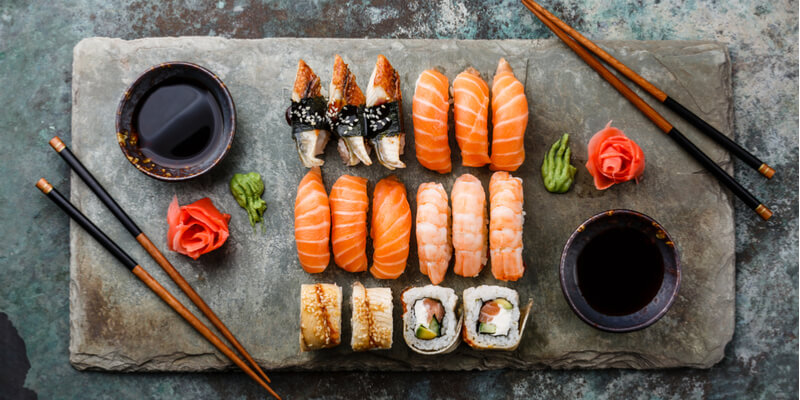 Australia's Love Affair With Sushi
Sushi is a Japanese dish made from raw fish that has won over much of the world, including Australia. The dish first reached Australia in the 1980s and since then, it's become as popular as McDonalds. In this post, we share how sushi is bringing Japan to Australia.
Australian's and Japanese Cuisine
According to leading market research organisation Roy Morgan Research, sushi's popularity has risen in all parts of Australia. Going from 36% in 2009; 40% of Australian said they loved eating it in 2014.
Takeaway shops and the ever-popular sushi trains are now dotted all over the country.
Angela Smith, Group Account Director of Roy Morgan Research dubbed Australia as the land of the rising sushi. In fact, it and other Japanese cuisine is the leading motivation for many Australian's when travelling to Japan. This is according to the Japan National Tourism Organization's (JNTO) yearly survey of international visitors. A whopping 51.6% of Australians said they enjoyed eating sushi the most. Sashimi, udon noodles and tempura ranked next.
Why Do Aussies Love It?
It's convenient to eat
It's undoubtedly a great takeaway food. Sushi can be packed in small containers and carried with you. It's not messy to eat and bite-sized pieces make it very easy to consume.
It has many health benefits
This Japanese food isn't bathed in oil, but it's highly rich in healthy fats such as omega-3 fatty acids, which is good for the heart and blood pressure. The thin sheets of dried seaweed have high mineral content like iodine and magnesium which are essential for hormone production and thyroid function.
It is undeniably delicious
It is a simple dish but it has distinct and addictive flavours. The combination of sweet from the fish, nutty from the rise and seaweed, and salty from the addition of soy sauce leaves your palate wanting for more.
It has plenty of varieties
If you love options, you can choose from a wide variety of sushi. Australians love nigiri, maki, and Inari the most. There are also more " Westernised" available, like sushi rolls and hand-rolls.
Special Precautions
Too much of anything is never a good thing and the same goes with eating sushi. It comes in tiny packages but watch out for its covert calories.
Also, foodborne illnesses from bacteria, viruses, and parasites can come from uncooked fish, so make sure you buy it from a trusted and reliable restaurant.
Sushi is consumed with wasabi and rice which usually has vinegar added. This makes it slightly acidic so be careful with eating too much because it might upset your stomach. Seaweed wraps also contain iodine and when eaten in excess may cause thyroid problems. Make sure you always eat it in moderation.
---