Cannon Logistics raises more than $2,000 for Mater Little Miracles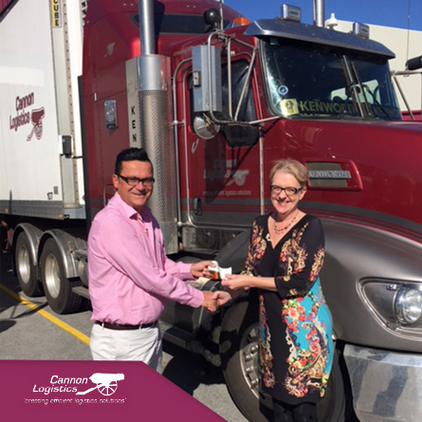 During the month of April, the team at Cannon Logistics took part in an initiative to raise funds for the Mater Little Miracles Foundation as part of the Foundation's Easter Appeal.
Our pledge was to donate 1 cent per kilometre travelled across our entire fleet. By the end of April (and after tallying up the results), we had travelled a total of 237,510km, raising $2,375.10 for the Mater Little Miracles Foundation.
Cannon Logistics Director Zac Popov had the following to say regarding the donation:
"Proud moment for Cannon Logistics in being able to provide a donation of $2,375.10 to the Mater Little Miracles. We hope our donation provides ongoing good care for newborns and their families."
Mater Foundation CEO Nigel Harris expressed his gratitude, citing that such donations help in providing life-saving care to 2,000 seriously ill and premature babies in the Neonatal Critical Care Unit each year.
"Organisations like Cannon Logistics have been wonderful in their support of Mater Little Miracles this year ? it's this community support that gives so many of Queensland's most vulnerable babies the best chance of a healthy future." – Nigel Harris.
Contribute to the cause
While the Easter Appeal may be over, you can still help raise more funds for this incredibly worthy cause. The Mater Foundation is always open to receiving donations, and every little bit counts.
Simply go to the Mater Foundation donation page and put in the amount you can (minimum donation is $2). You can opt to donate towards the Mater Little Miracles or any other cause of your choosing. If unsure, you can simply choose 'Where it is needed most'.
Don't forget to follow the Mater Foundation as they hold more Mater Little Miracles events throughout the year.
Finally, we'd like to thank all of those who followed and supported us along the way during our Mater Little Miracles initiative. We are truly grateful.
---