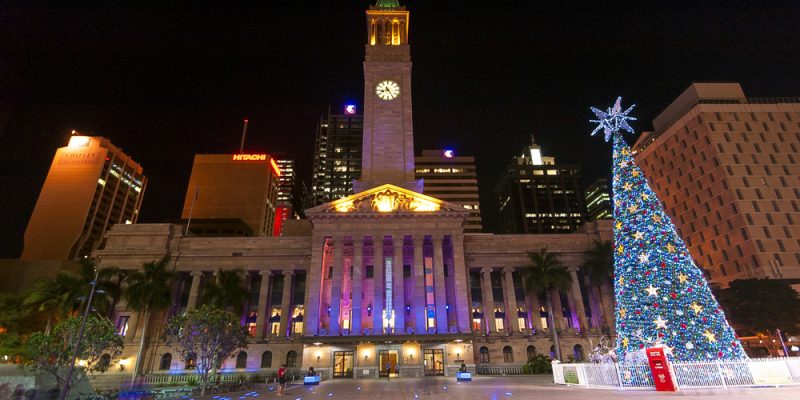 Christmas in Brisbane: 2017 Events to Look Out For
The buzz of Christmas has already started and we're sure some decorations have already started to go up.
Christmas is a time for family, food, and festivities. If you happen to be in Brisbane during the silly season, here are 5 of the best events for you and the family.
Santa at David Jones – Queens Plaza
Santa will be making appearances all over the city, but the big one will be Santa arriving at David Jones in Brisbane City. The event takes place in store in Queens Plaza, with Santa arriving on November 12th at 9:30am. But don't worry if you miss it, he will be in store every day until Christmas Eve.
Santa arrives 12th of November, 9.30am – late and in store every day until Christmas Eve.
Christmas Tree Lighting – King George Square
Every year, King George Square hosts the official Christmas Tree lighting ceremony. People gather to watch the dazzling Christmas tree lights getting switched on, as well as enjoying the night's festivities of special guests singing everyone's favourite Christmas carols, a welcome from Brisbane's Lord Mayor and a very special Christmas appearance by the man in red.
The event is free and takes place on Friday 24th November at 6.30pm. It is then lit up every night until Christmas Eve.
City Hall Light Spectacular – King George Square
As well as the Christmas Tree lights, City Hall in King George Square will be featuring a spectacular light display. An animated Australian version of The Night Before Christmas is projected onto City Hall for everyone to enjoy.
It's free to watch and starts on December 9th, 7:30pm – midnight, and we be on every night until December 24th.
Lord Mayor's Christmas Carols – Riverstage
Christmas carols are an important part of the silly season, and Brisbane will be hosting the exciting The Lord Mayor's Christmas Carols concert at the Riverstage.It will featuring everyone's favourite Christmas carols being performed by some of Australia's best entertainers.
The concert will take place on Saturday, 9th of December, from 4pm.
Christmas Movies in the Park – Roma Street Parkland
Eat dinner from one of Brisbane's best food trucks while you relax under the stars and watch one of the many Christmas movie favourites playing this year.
The movies will screen from the 8th – 17th December, with session times to be released soon.
If you're looking for Refrigerated Transport in Brisbane, please click here.
---