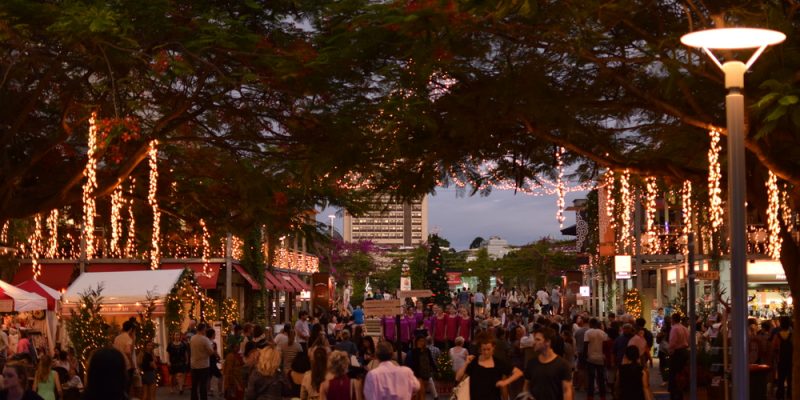 3 Christmas-inspired Festivals in QLD This Holiday Season
Keep an eye out for this year's Christmas-inspired Festivals in Queensland and get into the Christmas spirit. As you'll see, experiencing Christmas across Queensland is so diverse.
3 Christmas-inspired Festivals in Queensland
Christmas by Starlight 2018 – a free entry show happening on the 15th of December at Cleveland, Redland City Area. It features some of Australia's acclaimed singers and entertainers. Besides entertainment, you can enjoy activities, rides, carols, instrumental concerts, and delicious food at the event. Perfect for the whole family
Stable on the Strand – this North Queensland Christmas Festival is a free show happening on the 18th – 22nd of December, from 5:30 to 9:30 pm in Strand Park Townsville. Stable on the Strand will help you feel the real meaning of Christmas with its portrayal of the Christmas story. Take the kids along and let them enjoy interactive stories and entertainment.
Woodford Folk Festival – this festival takes place on the 27th of December – 1st of January 2019. The Woodford Folk Festival is one of the oldest running festivals in Australia, and many people make the pilgrimage there on Boxing Day, as part of their Christmas holiday celebrations. It's specially made for children to enjoy! They have plenty of kids' activities in store such as performances, arts and crafts, workshops and more.
Christmas in Queensland
Most parts of the world celebrate Christmas during winter or their cold season, but in Queensland it's the exact opposite. A Queensland Christmas means the start of summer!
Besides going to festivals, the whole family can enjoy the warm and sunny weather outdoors by visiting Queensland's crystal-clear waters, sandy beaches and fun theme parks. There are also many cultural attractions to go to and wildlife adventures to experience.
Top Christmas Destinations in Queensland
If you want to get away during the Christmas holidays, here are the best places to visit in Queensland!
Rockhampton – if you want to visit somewhere off the tourist track, Rockhampton is a great place to go. Enjoy the laid-back atmosphere and the great firework displays at Queen's Park during the holiday season.
Cairns – travel north to Cairns and bring your loved ones to the Cairns Esplanade NYE event and enjoy good food, fun rides, live music and more.
Port Douglas – this part of Queensland is a go-to holiday destination! Port Douglas is right next to the Great Barrier Reef so it's great for beach and ocean lovers.
From Brisbane to Port Douglas, Queensland's Christmas schedule is jam-packed with festive activities that will make your Christmas truly merry!
Looking for refrigerated transport in Rockhampton? Get in touch with us today.
---