Essential tips for catering start-ups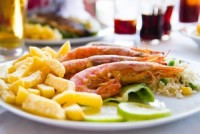 Starting a new business is often an exciting, albeit nerve-wracking, experience.

For catering start-ups, there are several factors worth remembering and accounting for, whether it's ensuring you don't take on the challenge until you're fully prepared or simply getting your name out there to increase your customer-base.
Don't assume you know what you're doing
As is the case with any business start-up, the worse thing you can do is assume you know how to run a catering business. Just because you can cook and prepare meals doesn't mean that can be flawlessly translated into a business that must adhere to set orders and deadlines.
If your choice to venture into the world of catering is because you like to cook, don't forget that there is far more to catering than meets the eye. First of all, you'll want to take some basic hospitality courses at the very least. Receiving a Response Service of Alcohol certificate is also of benefit, as is spending time working for a catering company.
Many people will start catering companies or open cafes simply because they have a natural talent for what they do, but you need to have a strong understanding of how such talent needs to be adapted into the working world. And catering isn't just about the food; it's also about the atmosphere you create and…
…Customer service
You could be the world's greatest cook, but poor customer service will ruin any catering business. Hospitality courses help give you some strong knowledge on how to present and serve food, including how food should be placed on a dinner table. Proper etiquette is also discussed, as well as how your general customer service can be improved.
Whether you're catering on your own or have a team of fellow caterers (the latter is the better option), everyone needs to know what is and is not acceptable when it comes to good customer service.
Business insurance
Not much needs to be said about this one. You have a business; you need to insure it. Make sure you get this done before start things up completely.
Rent out a commercial kitchen
Any good catering business is going to need a good kitchen. Even if you happen to start off small in your own kitchen, chances are you will need to upgrade to a larger commercial kitchen sooner rather than later. The bigger the orders get and the more staff you need, a working area with plenty of kitchen space will be absolutely essential.
Commercial kitchens can be rented out for fairly specific timeframes, be it a couple of hours or across several days. Either way, be sure to start finding out where licenced commercial kitchens are and what their going rates.
Consider logistics
For certain catering jobs, you may end up being able to use a commercial kitchen onsite – such as can be the case at the mines. However, if you do have to take supplies to certain jobs, then you'll need to make sure you have the right transport. Do you have your own refrigerated van? How much produce/foodstuff/beverages do you need to take? Should you consider the services of a logistics/road freight company to help move particularly large quantities of items?
Depending on what's demanded, you may be able to transport all the goods yourself, but there could be the odd occasion where additional assistance is needed.
Network
If you've got a new business, then you'll want to get word out about it. Networking isn't a strictly business card affair anymore, which is great. Social media is a great platform to use in your efforts to get your business's name out there, but traditional networking events, conventions and meet-and-greets are always worth your time as well. While you don't need a flawless sales pitch figured out, it is certainly worth your time having a solid summary of your business memorised. What matters is that your passion shines through. Nothing makes someone take interest in a business than passion and energy.
---