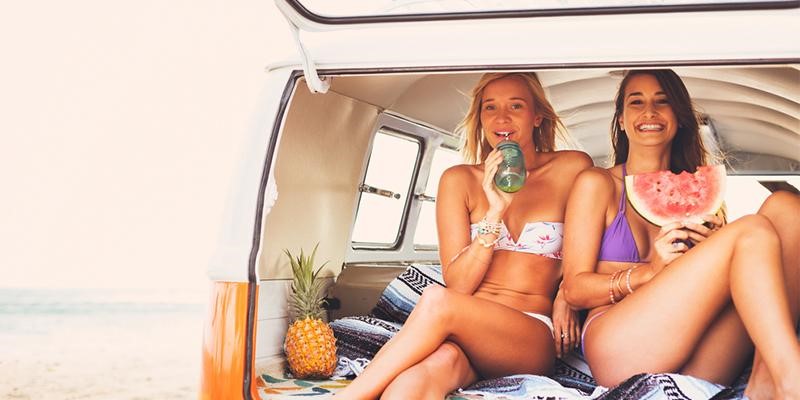 Explore North Queensland and satisfy your inner foodie
The summer holidays are just around the corner, what adventures will you and your family have? Heading up north is the ultimate culinary exploration – a melting pot of everything weird, wonderful and in between! The area offers: cuisine that has a Southeast Asian influence combined with local bush tucker delicacies; an abundance of tropical fruits; cheap seafood and native game that make for one of a kind food scene. In this post, we share some ideas to explore beautiful North Queensland and satisfy your inner foodie.
You can't visit Cairns and not visit Rusty's, it's just not done. A permanent fixture in local culture, the market boasts over 180 vendors selling local fruit and veg, seafood and meat plus exotic spices and anything else you never knew you needed to try.
Where? 57-89 Grafton St, Cairns
On the way to the Daintree River, is a small plantation in a clearing in the rainforest. This is Sweet Farm, a small family-run sugar cane and cocoa holding. The location itself, along the banks of the Whyanbeel Creek, is absolutely stunning. Farm tours showcase the sustainable farming of sugar and cocoa and also offer tastings.
Where? 333 Miallo Bamboo Creek Road, Miallo
We did mention that up north there can be a few more 'exotic' experiences to be had. Stop into Hartley's where you can watch crocodiles being hand fed, and then you can go to their restaurant and hand feed crocodile to yourself.
Where? Captain Cook Hwy, Wangetti Beach
A great place to truly learn more about and experience local aboriginal culture is this cultural park. They offer day tours where you can explore local customs and give you chance to try your hand at traditional skills including finding bush foods and medicines.
Where? Cairns Western Arterial Road, Caravonica (Cairns)
Head further south and inland to the Atherton Tablelands. At about 1000 metres above sea level, this region is considerably cooler than the coast and is dotted with extinct volcanoes, helping to create some of the richest soil in Australia and producing great dairy products and fit tea and coffee too. Just outside Mareeba, Jacques is located and is the perfect stop for some sweet coffee liqueur.
Where? 137 Leotta Road, Mareeba
Back on the road and heading south, you'll find Tolga Village, with a roadside stall, that has grown into one of the best greengrocer stores in Queensland. The Humpy is filled with the sweet aroma of ripe tropical fruit, including the sweet and heady, Mareeba Gold pineapples; locally grown peanuts (commonly boiled as a snack in these parts); sweet potatoes and preserves including mango relish and rosella (hibiscus) jam.
Where? 1 Kennedy Highway, Tolga
Continuing your road trip south, you'll find yourself in dairy country and must make a stop at this cheesery and chocolatier. A generous cheese platter is available for $20, or you can order a platter to go and have lunch at Malanda Falls. Situated in a patch of rainforest on the edge of town, this is a natural waterfall where the pool was enlarged and formed into a beach almost 100 years ago.
Where? Malanda-Atherton Road and East Barron Road, Atherton
Located on the coast not far from Mission beach, you'll come across this beautiful family-owned farm. There are over 65 hectares of exotic fruit, from the sweet and meaty jackfruit to the blood-red fleshed Vietnamese gac fruit. Take the tour so you'll get to taste all the different fruit, for a truly memorable and unique tasting experience.
Where? 699 East Feluga Road, Tully
If you're looking for Refrigerated Transport in Townsville, please click here.
---