Fire Issues and Logistics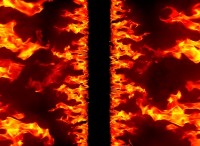 Undoubtedly you've heard about the devastating fires that have made their way through Tasmania, Victoria, New South Wales throughout the past couple of weeks.
As the summer season continues, it means that fires could ignite anywhere around Australia, and once they're out of control they can cut off roads, impacting not just on those driving recreationally, but those working in the logistics and freight industries, as well.
So the big question is what do you do if severe fires could impact on your business's ability to deliver on time? And what should you do if the fires pose a true threat your drivers?
Dealing with fire
First of all, let's focus on the issue of fire cutting off delivery routes. A natural part of any logistical delivery is that where will be timeframes and that you will also have to account for contingencies. Whether it's floods, road damage or a peril such as fire, your primary route should also be accompanied by a number of alternative routes that can branch off at different points during transport.
Beyond alternate routes, there aren't that many other ways in which you can account for road closures or temporarily unavailable routes. If any part of the route is impassable, then you'll need to inform your client or those waiting for your delivery that it is has been delayed due to circumstances beyond your control.
Fire danger
Along with any impact fire can have on transport, it's important to remember the danger itself. At the very core should be the concern for the welfare of those transporting goods from point A to point B. No risks should be taken. If it is not 100% assured that a driver can pull off a certain route, then they shouldn't go.
Deliveries are not worth the life of anyone. Product delivery delays is a much better trade than that of a human life. Make it clear to your employees – especially your drivers – that if it's not 100% safe, then they are not to proceed.
Also note that you can take out insurance to account for any damage or loss to good in transit that account for causes such as the perils of fire. This is an insurance policy you should certainly consider taking out, regardless of whether you're explicitly a logistics company or you're a business that occasionally needs to move your goods from A to B.
Have you ever had to move freight during the wilds of a bushfire? How did you respond to the danger? Share your experiences with us in the comments below.
* Image source: Idea go / FreeDigitalPhotos.net
---