Floods Continue to Delay Queensland Freight Deliveries
As the weather in Queensland remains highly unpredictable, with the possibility of a cyclone forming off the cost of the state becoming more and more likely.
As much of the state has suffered severe floods and extreme weather conditions, a large portion of Queensland roads are still impassable. This fact has led to freight and logistics operations being affected, leading to substantial losses.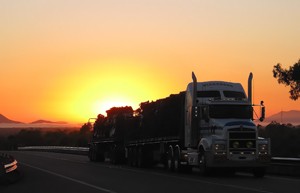 The extent of the damage
One of the chief culprits of the damage caused is ex-tropical cyclone Oswald, which has led to a notable freight backlog in central Queensland.
As it currently stands, 5845 km of road within Queensland have been affected by cyclone Oswald and the succeeding additional carnage that has coursed its way throughout the state. Of that 5845 km of road, only 2736 km is open with conditions.
These conditions include points of concern such as damaged infrastructure, extensive soft patches and load limits. Because many of these opened roads are yet to be fully repaired, the weakening in their foundations means that trucks aren't able to carry as heavy loads as usual.
Being in a situation where loads have had be lightened or where reaching customers is simply impossible due to completely impassable roads means that both customers and freight companies are receiving a financial blow as well.
The cost
The excessive flooding and road damage has meant that a large portion of freight deliveries originating from the South East of Queensland have had to be put on hold. As it currently stands, 510 loads have been completely unable to move, while a further 55 freight loads have been given permission to go ahead thanks to special permits.
For the most part, however, many roads are still too dangerous or heavily damaged to the point where many freight deliveries aren't possible and it's not known when they will be. Worse still, the threat of another possible cyclone forming on the coast of Queensland – currently called cyclone Sandra – is keeping Queenslanders on edge of the possibility of further severe weather conditions.
The lost productivity is also a costly exercise, with companies losing profits or seeing money being bled due to freight deliveries being stranded or unable to head out in the first place. According to Queensland Trucking Association chief executive Peter Garske, the costs are measuring somewhere between $10,000 to $20,000 per day.
There's no denying that the floods in Queensland have had a large impact on many businesses, homes and individuals. We sincerely hope that this unpredictable, severe weather will settle down soon so that all of those affected can have a true opportunity to get things back on track.
---