Health benefits of chocolate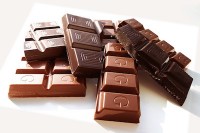 With Easter almost upon us, it seems only fitting to discuss the number of potential health benefits that chocolate offers.
This delicious treat can occasionally get a bad rap, but as with any treat enjoyed in moderation, chocolate actually has plenty of health benefits, too. So there's no need to enjoy a couple squares of chocolate every now and then – especially if doing so leads to a healthier life.
It may just lower cholesterol levels
According to a study published in The Journal of Nutrition, studies found that chocolate containing plant sterols (PS) and cocoa flavanols (CF) showed signs of helping reducing cholesterol levels and improving blood pressure. It suggested that the regular consumption of chocolate containing PS and CF as part of a low-fat diet could be, overall, beneficial.
A reduction in heart risk disease
Another study, which was published in the British Medical Journal, contained research showing that consumption of chocolate helped reduce the risk of developing heart disease by one-third. While not explicitly conclusive, with the research citing the need for "further experimental studies", it was certainly some promising initial data.
It could help in preventing memory decline
At Harvard Medical School, scientists have suggested that drinking two cups of hot chocolate a day may help in keeping the brain healthy and preventing memory decline in older people. Researchers stated that hot chocolate can assist in preserving blood flow in working areas of the brain.
Stroke prevention
Scientists in Canada carried out an extensive study that involved 44,489 people. They found that those who ate chocolate were 22% less likely to suffer a stroke than those who didn't. For those who did suffer a stroke but were regular chocolate consumers, they were less 46% less likely to die from the stroke.
So there you have it. Chocolate's not just a tasty treat; it also has a wealth of health benefits. Just remember to consume it in moderation – even on Easter.

---