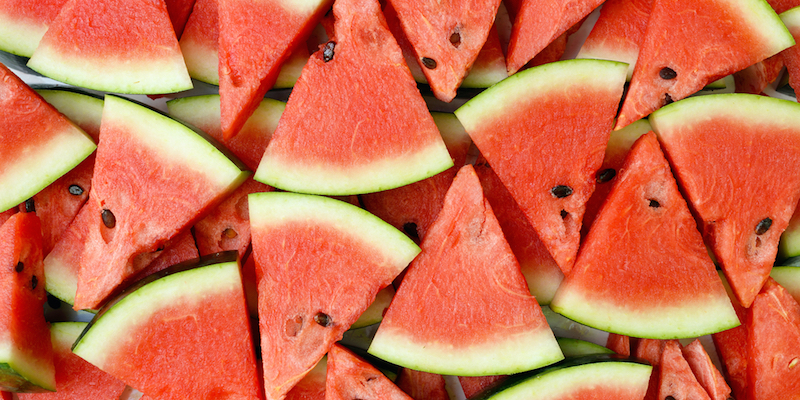 The Health Benefits of Watermelon
Watermelon – a summer favourite, the perfect hydrating snack or cool beverage on a hot summer's day. While most of us love them for their sweet and refreshing qualities – there are also a number of health benefits that make watermelons not just delicious but good for you, too!
In this post, we put a spotlight on watermelons and also share some tips for storage and making sure you can enjoy them while they're fresh.
What's in a watermelon?
Watermelons have no fat or cholesterol and are an excellent source of vitamins A, B6 and C and contain fibre and potassium. They're made up of 92% water.
Why watermelon – some health benefits
Blood pressure: A study published by the American Journal of Hypertension found that watermelon extract supplementation reduces ankle blood pressure, brachial blood pressure and carotid wave reflection in obese middle-aged adults with prehypertension or stage 1 hypertension, and that watermelon extract improves arterial function.
Digestion and regularity: because of its water and fiber content, watermelon helps to prevent constipation and promote regularity.
Hydration: Made up of 92% water and full of important electrolytes, watermelon is a great snack to have during the hot summer months to prevent dehydration and sometimes even heat stroke.
How are watermelons grown?
Like their relations pumpkins and squashes, watermelons grow on trailing vines on the ground. From seedling to crop – they can take up to 4 months after planting before they are ready to be picked. They don't ripen after harvest so that they are ripe when they are bought.
When are they best in season?
Every year from November to May (they require a long warm-to-hot growing season) watermelons are best available in Queensland. If you really love watermelon, save the Melon Festival (held every 2 years in Chinchilla, QLD) in February into your calendar. You can learn more here.
What can one do with watermelons?
Slice them up and enjoy them as is; make them into a juice, shake, smoothie; freeze them and make into a healthy frozen dessert; use pieces of it in a salad – these are the more commonly known uses of watermelon in a daily diet. But these ways don't use the rind – what do you do with it? In some cultures the rind is used to make a spicy preservative ready to be added to dishes later.
How do you store you watermelons?
Watermelon uncut on your counter at room temperature can stay good for up to 7 to 10 days. Cut watermelon must be kept in the fridge, and can stay good for about 2 days. They lose their moisture in low-humidity fridges, but you can seal in the moisture with cling wrap.
---