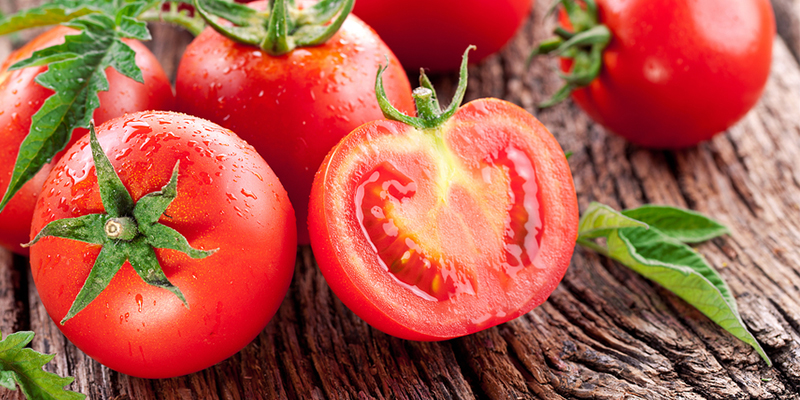 The Health Benefits of Tomatoes
Fruit? Vegetable? Whether you think they're either of those choices, one thing I'm sure we can all agree on is that the tomato is a nutrient-dense, superfood. In this post, we take a closer look at this superfood and share just a few of the many health benefits of tomatoes.
1 Anticarcinogenic
Tomatoes are an excellent source of vitamin C and other antioxidants. Tomatoes can help combat the formation of free radicals known to cause cancer.

Lycopene

has also been linked with cancer prevention.

According to a study by the

Harvard School of Public Health's Department of Nutrition

, beta-carotene also found in abundance in tomatoes, plays a protective role against cancer.
2 Healthy Heart
3 Support Digestion and Prevent Constipation
Eating foods that are high in water content and fibre like tomatoes can help with hydration and promote regular bowel movements.

Fibre adds bulk to stool

and is essential for minimising constipation and preventing diarrhea.

It also

prevents jaundice

and effectively removes toxins from the body.
4 Better Vision
Tomatoes are a rich source of lycopene, lutein and beta-carotene, powerful antioxidants that have been shown to

protect the eyes

against light-induced damage associated with the development of cataracts and age-related macular degeneration.

Vitamin A

, is also present in tomatoes and aids in improving vision, as well as in preventing night-blindness and macular degeneration.
5 Youthful Skin
The synthesis of collagen, an essential component of the skin, hair, nails and connective tissue, is reliant on

vitamin C

which is abundant in tomatoes. A deficiency of vitamin C leads to scurvy. As vitamin C is a powerful antioxidant, a low intake is associated with increased damage from sunlight, pollution and smoke, leading to wrinkles, sagging skin, blemishes and other adverse health effects.

Topical application of tomato juice is even known to

cure severe sunburns

.

Tomatoes rank high in the preparation of

anti-aging products

.
How to Select, Store and Enjoy
Choose tomatoes that have rich colors – 

deep reds are a great choice, but so are vibrant oranges/tangerines, brilliant yellows, and rich purples. Tomatoes of all colors provide outstanding nutrient benefits.

Tomatoes should be well shaped and smooth-skinned with no wrinkles, cracks, bruises, or soft spots –

 they should not have a puffy appearance since that characteristic is often associated with inferior flavor and may also result in excess waste during preparation. Ripe tomatoes will yield to slight pressure and will have a noticeably sweet fragrance.

Sniff all tomatoes if you can – i

f they're missing that sweet, woody smell, leave them behind.

Keep tomatoes at room temperature on a plate

; never store them in a plastic bag. If you want to speed the ripening process, put the tomatoes in a pierced paper bag with an apple, which emits ethylene gas, a ripening agent. Once ripe, tomatoes can last two to three days.

It's a very versatile superfood – t

omatoes can be grilled, roasted, or sautéed. Or make a juicy sandwich. You could also enjoy them fresh in a salad, as a sauce, or even baked.
---