How could cloud technology change transport?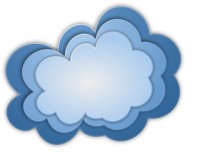 One of the game changing technologies that has grown to mainstream usage over the past few years cloud technology.

Whether you're managing your company finances, writing up documents on Google Drive, or playing video games on current generation consoles and on PC; all of these either offer access to cloud technology or the technology itself is an intrinsic, fundamental part of the product. But cloud technology could also become a fundamental part of the world of transport.
What is cloud technology?
If you're not familiar with cloud technology, it primarily refers to a technology where the internet plays a substantial role. Essentially, cloud technology saves files and information online, allowing you to access them whenever you want from anywhere in the world.
A basic example is Google Drive. Drive is Google's online-based answer to Microsoft Office. Because Drive is an online product, whenever you make a change to a document, those changes are immediately saved to Google's online servers. And because your Drive account is tied to your overall Google account, you can access your documents from any computer or device where you can log into your Google account.
This makes Google Drive 'device agnostic', whereas old versions of Microsoft Office were restricted to a set device and moving your content to another device was a far more tedious practice. Now, of course, Microsoft Office has its own cloud-based features as well.
Cloud technology has also been applied to accounting software such as MYOB – ensuring your saves are consistently backed up online and accessible from multiple devices – and on gaming consoles such PS4 and Xbox One, which allows you to backup your game saves to servers so if any of your saves become corrupted locally, you can replace those corrupted saves with your online backups.
How cloud technology could be integrated into transport
Cloud technology is far more than just saving files online. Microsoft, for example, is investing heavily in cloud technology to improve the experience associated with its latest console, the Xbox One. By integrating many of its games with its own cloud servers, Microsoft has the potential to offset some of the processing strain its console would otherwise have to deal with by delegating it to the cloud instead.
Because cloud technology has such limitless potential, it's influence could be felt in transport over the coming years.
Of course, there's no way to predict just how cloud technology will integrate with transport, but it could affect several aspect of the transport world, from how cars are manufactured to how logistics operations are undertaken. Some of the potential advancements (and improvements over current functions) cloud technology could bring to transport include:
An increase in natively integrated GPS with free, self-updating functionality
Improved tracking of vehicles, which is ideal for freight vehicles and the logistics industry at large
More efficient incident/accident reporting that could ultimately become automated
Improved live updates of traffic conditions, as well as any potential hazardous weather conditions
Regular firmware updates to operating systems that could be implemented in future 'smart cars'
Up-to-date location information such as attractions, events occurring around the time drivers arrive, roadworks, any recent incidents and/or crimes that would be valuable in knowing about, etc.
More streamlined updates and reports throughout logistics supply chain
Effective integration with third-party car operating systems (Apple's forthcoming car OS, as well as Microsoft's rumoured 'Windows in the Car')
Cloud technology has the potential to change the face of transport in a wide variety of ways. Only time will tell how important the cloud becomes when related to our own vehicles and transport at large.
---