How to Keep Your Seafood Fresh and Bacteria-Free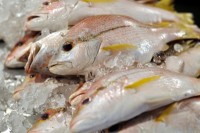 Seafood can be a fairly temperamental food to deal with when it comes to maintaining its freshness and ensuring it doesn't form bacteria.
But from the moment you buy it to the moment you consume it there are a number of precautions you can take to be certain that it doesn't go foul.
Purchase
The two most important facts to know about seafood – it should be kept cold and moist. That's typically why all seafood is displayed on beds of ice – be it at the supermarket or a seafood market. The ice keeps the seafood both cold and moist.
So wherever you're purchasing your seafood from, ensure you can keep it in a similar condition on your trip home. If you need your seafood to travel a large distance, logistics companies such as us here at Cannon Logistics can transport your seafood for you and keep it fresh.
Another fact to remember is that it's very important to avoid mishandling seafood. If drop or handle your seafood roughly, this can rupture blood vessels and cause bruising. Bruising causes seafood to acquire an unpleasantly potent fishy smell and odour. Oxidation also speeds up as a result, meaning your seafood will go rancid faster.
Storage
When it comes to storing seafood you have two options – the fridge or freezer. By placing your seafood in the freezer you can keep it in consumable condition for up to six months. To learn more about storing seafood in the freezer and the different lengths of time that they can stay good for, check out our blog Correct Seafood Storage and Transport.
If storing in the fridge, seafood will only keep for one to three days, usually with majority only lasting about two days. If you choose to do this, store the seafood towards the bottom of the fridge as this is the cooler section. Make sure it doesn't dry out as this hurts its flavour and can cause bacteria to form.
Thawing
When you want to remove some seafood from your freezer ready for consumption, you first need to let it thaw. The best approach is to let your seafood thaw in the fridge. Place it on the top shelf (warmest section) and let it thaw. It should only take 24 hours and thawing in the fridge reduces the amount of moisture that will be lost.
Under no circumstances should you thaw in warm water – this causes bacteria to form exponentially. If need be, you can thaw your seafood in the microwave as long as it has a defrost option. At the very least make sure you don't start "cooking" your seafood in the microwave.
By following these tips, you'll keep your seafood fresh and free from any harmful bacteria. If you would like to know more about how we can transport seafood for you, contact us online or call us on (07) 3396 8833.
* Image source: bigjom / FreeDigitalPhotos.net
---