How Weather Impacts Freight Transport
In both Queensland and New South Wales, people have had to face the force of a number of floods since January 2011 when the majority of Queensland was classified as flooded. Earlier this year, many towns in regional Queensland and NSW had to face another round of floods.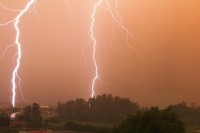 With such unpredictable weather, sometimes freight deliveries and the logistics industry at large are impacted as well.
For example, during the 2011 January Queensland floods, many major roads were completely unsurpassable. Hubs where deliveries changed hands had to be closed down. Businesses and people certainly noticed.
Store shelves were starting to go empty and some people even tried to stock up in case of a food shortage – all of which lands on the shoulders of producers and logistics companies.
Additionally, popular fast food restaurants such as McDonald's were running out of stock throughout the crisis. Fortunately, it didn't take long for freight to start moving again only a few weeks after the floods.
It's important to remember the large role logistics plays in the chain of supply and demand. While under normal circumstances we can deliver, acts of nature that cut off roads and close down logistics hubs are beyond our control.
Remember to remain calm in a crisis. Because if roads and associated detours are cut off, there is nothing we can do until the issues are resolved.
Have you been caught up in a natural disaster that has led to stock shortages? Share your memories in the comments below.
Image source: Christian Meyn / FreeDigitalPhotos.net
---