Important Operational Tips for Supermarket Owners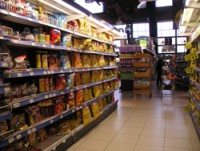 If you run a supermarket, then you understand how busy and demanding such a job can be.
There are a number of factors you need to account for, from staying in stock to ensuring your premises is safe for customers. In today's blog, we've put together some simple tips to help you ensure you keep your supermarket running smoothly.
Be logical with your stocking
When running a supermarket, a natural and logical assumption is that you'll need large amounts of stock and that they will sell at a faster rate than at, say, a petrol station convenience store. However, just because you're catering to a larger number of customers doesn't mean you should go overboard with how much stock.
Supermarkets that overstock a certain set of products could find themselves in a predicament where their goods keep edging closer to an expiration or "best before" date without going off the shelves. In these circumstances, it can force said supermarkets to offer these items at a reduced price or simply dispose of them once the expiration date is reached.
By rights, no supermarket should sell any product that goes beyond its sell-by date, regardless of whether it's only a guided sale date or the actual date where the item will no longer be acceptable to consume.
You probably won't get your stock demands right straight away, but take the time out to assess how regularly each product tends to sell. If you're oversupplying, reduce your next order. If you undersupply, then increase the next order. Also, don't forget to account for potential supply increases during holiday periods.
Oversupply only costs you money and, if you end up unwittingly selling expired goods you could face some serious penalties, such as legal claims, if you supply those expired goods to the wrong individual.
Maintain cleanliness
No one likes walking into any commercial premises that appears unkempt or below acceptable standards. Cleanliness is extremely important, especially when you're talking about supermarkets. After all, why would anyone want to purchase their food, toiletries, beverages and pet food from a place that dirty?
Of course, cleanliness goes beyond an aesthetic appeal – it's also a matter of health and safety. It is expected by law that any commercial premises will maintain a suitable level of cleanliness. So be sure to keep your supermarket in good shape. Just remember that whenever you're cleaning floors or any areas to place up warning signs for your customers (e.g. "Caution: Wet Surface" cones).
Manage pests
Another good reason to have a clean premises is that it helps deter pests from entering. However, managing pests goes way beyond keeping your place clean. It can require other efforts such as sealing possible entry points they could be using, installing air curtains to keep flying insects out and, importantly, hiring a pest control service provider.
You're not supposed to use the store bought fly and surface sprays to deter pests when it comes to a commercial premises, so you're best option is a pest management service professional. Ensure you hire a pest control company that is qualified to provide its services in environments that contain foodstuff. A good indicator of such qualification is an HACCP accreditation.
Have a reliable logistics company delivering your goods
Last but not least, given that having products on your shelves is what you need to succeed, you'll want to invest in a reliable logistics/freight service provider. Whoever you choose, take the time out to assess their history and find out how current and previous clients rate them. In the end, the logistics company will be working for you, so you'll want to ensure you're investing in the right provider.
At Cannon Logistics, we have over 35 years experience in the logistics and road freight industry, and offer our services to commercial businesses throughout Queensland and northern New South Wales. If you'd like to find out more about our services, give us a call on 3217 9211.
---