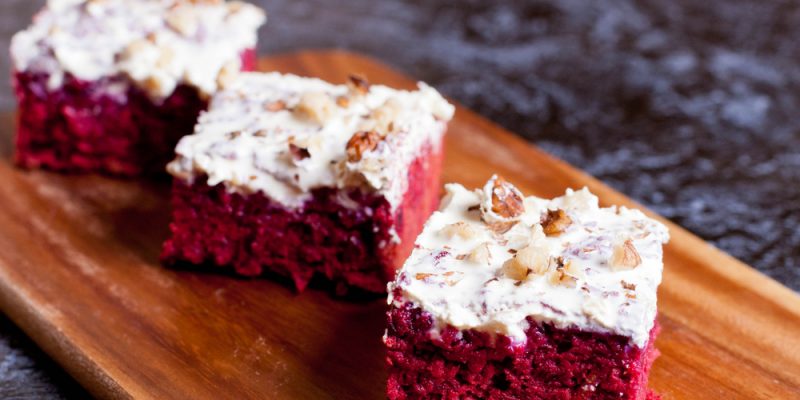 In Season: 10 Ways to use Beetroot
The sweet, red bulbs of beetroot are one of the most recognisable vegetables, and one of the most flavoursome.
It's is most often eaten cooked, and a makes a delicious addition to plenty of meals, even the odd sweet dish.
Beetroots are in season around Australia in the winter months, so now is the time to pick them up at the supermarket and try one (or all!) of these recipe ideas:
1. Beetroot and chocolate cake
Yes, chocolate and beetroot go together. The sweet, earthy richness compliments chocolate really well, and it makes cakes extra moist.
2. Beetroot and goat's cheese quiche
Beetroot and goat's cheese are another perfect match. The tart creaminess of the goats cheese balances out the sweetness of the beetroot. This recipe is fairly complex, so you can skip the pastry making if you want and just use a frozen shortcrust pastry.
This classic pickled beetroot makes a delicious side dish, on a sandwich or burger, tossed through a salad, or even just snacked on by itself.
4. Warm beetroot, pear and chorizo salad
This deliciously colourful salad has a bit of everything. You can use a green apple if you don't have pear, and parmesan will work well instead of manchego, which can be expensive and hard to find.
5. Butterflied lamb with beetroot and feta dressing
This super easy recipe makes the perfect winter dinner. The addition of instant coffee might sound confusing, but it actually enhances the flavour of the lamb.
6. Beetroot, potato and sweet potato pizza with rosemary
Fans of root vegetables will love this recipe. Potato pizza is a classic in Italy, and the addition of beetroot and sweet potato gives it a delicious sweet twist.
7. Beetroot, apple and grapefruit juice
Juicing beetroots creates some pretty striking drinks, but they are also packed with health boosting vitamins and minerals. Try this zingy juice if you're feeling a little under the weather.
A nice variation on the chocolate and beetroot cake, beetroot brownies make for a more intense, creamy flavour. Plus this recipe has around half the fat of regular brownies.
If you want to try something a bit different for your next risotto, try this delicious balsamic beetroot recipe. It's a nice, simple recipe, so beginners to risotto won't feel too intimidated.
10. Beetroot dip
A nice classic beetroot dip makes the perfect addition to the snack table. This recipe is super easy as well, all you need to do is put all the ingredients into a food processor, then you're done.
---