Logistics and the foodservice industry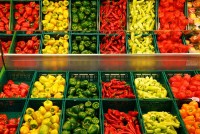 The foodservice industry covers a host of different specialties, from the distribution of food and kitchen utensils to the actual process of food preparation, cooking and serving (e.g. catering, restaurants, certain fields of hospitality, etc.).
With the ever-present demand placed on the industry (people need to eat and drink, after all), if one part of the foodservice supply chain falls short, then the every other integral part can suffer as a result.
A basic example would be a fast food joint. They rely on the consistent delivery and supply of products that they use in their meals to keep up with demand and successfully maintain their operations. If the foodservice distributor responsible for delivering these products were to encounter operational issues that prevent them from delivering these necessary products, then the fast food joint could find themselves with dwindling supplies and even having to temporarily announce certain menu items as being unavailable.
With particular customers, the lack of a certain item menu may prove a deal-breaker, especially if that one item is the only thing on the menu that appeals to them. In the event the foodservice distributor fails to make necessary deliveries on a repeated basis, the fast food joint will likely look for a new distributor/logistics company to provide for them.
Options available to foodservice distributors
For the foodservice distributor, they have an additional option available to them if one of the reasons behind their affected deliveries is that they don't have enough delivery vehicles to keep up with demand. This option is hiring the services of a third-party logistics / road freight provider.
No matter how big the foodservice distributor, sometimes events can occur where too many orders have been taken on or an unforeseen event means one or two delivery trucks may suddenly be out of operation. Contingency plans exist for a reason, and having a go-to third-party logistics or road freight provider on hand is one of the best contingency plans out there.
At Cannon Logistics, we help a wide variety of companies move their goods and products from A to B. It doesn't matter whether you're a large foodservice distribution company or a small business, we have options available for all. We also provide cold and dry storage solutions if needed.
To find out more, give us a call on (07) 3396 1911.
---