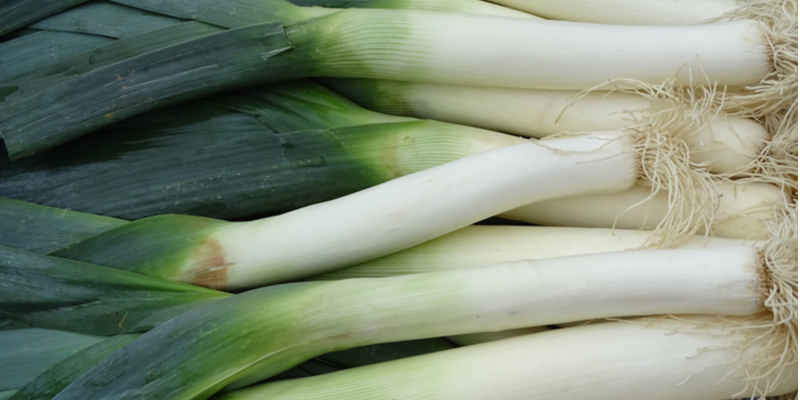 October Produce Spotlight: Leeks
In this October produce spotlight, we look at the versatile onion-like vegetable – Leeks.
Foodie Profile
Looks like…longer and thicker version of onion stems, with white stems and root and green at the top of the stem.

Tastes like…mildly sweet and similar to onion – perfect as a milder onion flavour in meals.

Feels like…hard and crunchy. You can only eat its stalk – just above the roots and stem base.
How can you use them? They can be eaten raw, sliced in salads, or added to soups and pies, and much more. 
Health Benefits of Leeks
Leeks may have many benefits for the body, here are just a few:
Improve eye health – leek is

rich in Vitamin A and antioxidants, both of which help with vision. It also helps to improve night vision.
Keeps skin clear & healthy –

antioxidants found in leeks combat free radicals that can cause dark spots, wrinkles, and aging. Leeks also contain Allicin, a compound that has bacterial properties and protects your skin from germs.
Heart health –

it contains high levels of kaempferol, a flavonoid that helps protect blood vessels from damage. It contains high levels of folate too, which promotes heart health and ensures homocysteine levels are balanced. 
Aids lowering blood pressure –

leeks are abundant in potassium which helps serve as a vasodilator – minimising the tension from the blood vessels to facilitate the smooth flow of blood through the arteries. 
Helps to prevent anemia –

The primary cause of Anemia is lack of iron, but consuming leeks regularly can provide the body with the iron it needs to prevent Anemia.  
Relieves Inflammation –

Anti-inflammatory properties are found in leeks which can help with rheumatic conditions such as arthritis.
Improves bone health –

Leeks are also rich in vitamin K which encourages the production of the protein osteocalcin, which is vital when it comes to bone health.
Supports kidney function –

Leeks are a diuretic and help your kidneys flush out sodium build up inside through your urine.
May help prevent cancer –

Leeks are abundant with Vitamin C which is known to be a potent cancer-fighting antioxidant because it combats free radicals and neutralises them before they can perform oxidative damage to cells.  
Aids weight loss –

leeks are full of dietary fibre, it can help people lose weight because it inhibits cravings and prevents one from feeling frequently hungry – the perfect dieter's veggie!
Selection and storing tips
The veggie should feel firm and look straight with dark green leaves and white stems without any blemishes (cracks or bruises in the bulb) or discolouration (yellowish stems) to indicate freshness
Since leeks are already quite fibrous, only purchase leeks that have a diameter of maximum 4cm or less. 
Store raw leeks unwashed and untrimmed in the fridge, this should keep it for about 1-2 weeks.
Cooked leeks go 'off' quick. Even when kept in the fridge, they'll only stay fresh for at maximum 2 days.
However, you can freeze leeks in any condition and they should keep for about 3 months.
Just know that frozen leeks may have lost some of their taste and/or texture qualities.
Serving ideas (recipes courtesy of taste.com.au) 
---