Our Services: Refrigerated road transport
At Cannon Logistics, we have a range of services to ensure that you can have your goods/products successfully transported from A to B.
Along with general road freight options, we also provide refrigerated road transport capabilities that allow us to maintain specific temperatures for more temperamental foods and produce – particularly those that require to be kept at low or subzero temperatures.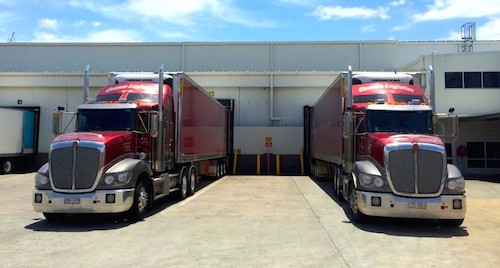 Our technology
For our refrigerated trucks, we have built-in temperature monitoring technology that ensures a stable environment is maintained to effectively preserve your goods within tight operating parameters. This allows us to keep your goods in optimum condition, protecting them against perishing, damage and loss.
By also utilising the most efficient transport routes throughout Queensland and Northern NSW, Cannon's drivers will deliver your goods in an effective manner. So not only are your goods properly maintained within a controlled, refrigerated environment, they are also delivered with efficiency and peerless professionalism. At Cannon Logistics, it is our commitment to always be "creating efficient logistics solutions" for our clients, big and small.
Areas we service
As part of our refrigerated transport solutions, we provide this service to the following areas:
Gympie
Hervey Bay
Bundaberg
Gladstone
Emerald
Moranbah
Yeppoon
Dysart
Collinsville
Bowen
Miles
Reedy Creek
Chinchilla
Wandoan
Roma
To find out more, don't hesitate to give us a call on (07) 3396 1911.
---