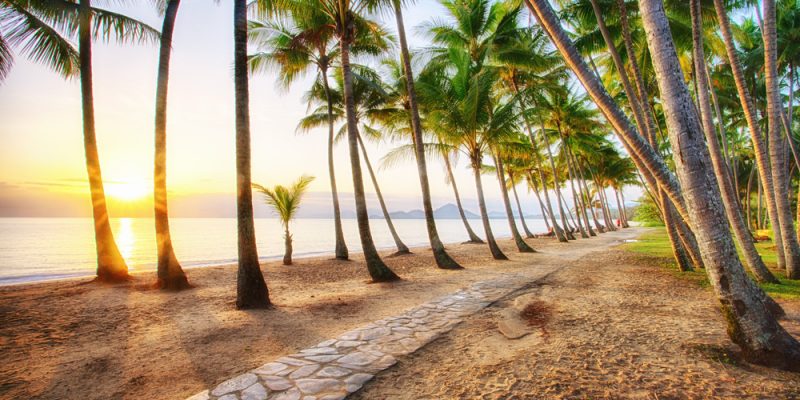 Event | Palm Cove Reef Feast 2017
The beautiful tropical North Queensland has another delicious food event on the horizon. Palm Cove Reef Feast takes place in early October, with food, beer and culture taking centre stage.
The event, sponsored by Cairns Airport, will be a feast for all the senses. Palm Cove restaurants, cafes, plus local producers will set up shop on along the esplanade to tempt the most discerning palates. Four stages of local live music, buskers and circus shows will entertain the crowds. The weekend also includes local craft beer awards and the annual Golf Day.
What is it? Reef Feast is a 3 day food and culture festival celebrating cuisine, fresh produce, live music, and relaxed culture and lifestyle of Palm Cove, northern Queensland.
Why go? There is something for everyone at this feast of a festival in the sunny tropics:
Reef Feast Golf Day
Tropical long lunch feast
Live blues and seafood evening
Beer tastings from local breweries
Night market and food tasting stalls
Reef Feast Market Day
Fireworks
…and more
When is it? 3 day event from Friday 6th – Sunday 8th of October.
Where can I stay? There are plenty of accommodation options in Palm Cove and surrounding areas. Cairns is a 35 minute drive away, with backpackers, hotels, resorts, private apartments, and camping. For more information on Cairns accommodation options, head here.
For heaps of accommodation options in Palm Cove, take a look here.
How do you get there? Palm Cove is approximately 5 hours drive north of Townsville and 35 minute drive north of Cairns. There are over 13 flights from Brisbane to Cairns each day, with flight time of about 2 hr 25 mins.
There are selected bus services from Cairns to Palm Cove, but they are not very frequent.
How much is it? Reef Feast is free entry
Want to learn more? Head to the festival website here for more information.
We've got you covered if you're looking for Refrigerated Transport in Townsville.
---