Pineapples: how they can benefit your health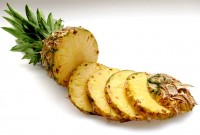 Pineapple is a beloved fruit here in Australia. With its distinctive taste and refreshing qualities, pineapple is a great way of enjoying a sweet treat while still knowing you're eating something healthy and natural.
As a fruit, it's versatile. It can be added into fruit salads, placed as a topping on pizzas or other seemingly savoury affairs, you can blend it into a smoothie, enjoy it in some yoghurt, use it in marinades, and more. Given that many parts of Australia can go through quite hot and humid Springs and Summers, the refreshing nature of pineapple proves a big plus among many.
When is pineapple in season?
In terms of pineapple that's grown here in Australia, the best seasons are Spring and Summer. As we've just entered Spring for 2015, this means you should find a greater amount of locally-grown pineapple available for purchase from your local grocers, organic grocers, fruit shops, supermarkets, and many local markets over the next 6 months.
Outside of this time, pineapples are still available (including canned varieties, if you prefer), but some of these may have been imported. This is worth noting if you prefer to support local farmers.
How pineapples can benefit your health
Reports suggest that pineapple can potentially help in reducing the risk of age-related macular degeneration; assist in asthma prevention; reduce, or at least help you better manage, your blood pressure; and it may even help combat the formation of free radicals known to cause cancer. It may also help with health issues pertaining to diabetes, digestion, fertility, heart health, and/or skin health.
It's important to remember that health benefits are not always guaranteed, but pineapple is beneficial for most. Of course, if you have an allergy related to pineapples, then don't consume them.
While pineapple does contain sugar, this natural sugar breaks down far more easily than processed sugars. It's also worth noting that pineapples are fat-free, cholesterol-free and low in sodium.
---