Road Freight for Local Fruit and Veg Shops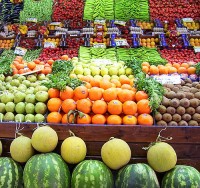 When you run a smaller, local fruit and veg shop, you still need to account for the similarly big picture of larger chains – how will you get the latest in-season fruits and vegetables to your store?
As part of our commitment to providing efficient logistics solutions to businesses of all sizes, Cannon Logistics prides itself on providing refrigerated road freight services to fruit and veg shops, which ensure your produce will arrive in an efficient and safe manner. Our services extend throughout Queensland and Northern NSW.
Why small freight loads work
As a local fruit and veg shop owner, compared to larger companies you may smaller loads of produce transported to your business.
However, whether you need an entire pallet-load full of freight to be moved or only a few items that would take up a minor section of a pallet, we cater to both of these ends. Given the size of our trucks, we often have space left over for smaller freight deliveries and, as a result, can offer you a cost effective transport solution.
We determine our prices based on freight size, pallets used, distance travelled and other factors; this means we don't apply any unfair uniform price for you to pay.
Other benefits
Along with offering cost effective solutions for your small freight needs, we also will take care of your products/produce right up until the point of delivering to its final destination.
With Cold & Dry Storage facilities at our Brisbane depot, we ensure your fruits and vegetables are never exposed to unstable temperatures or conditions that could spoil them.
This doesn't just protect your goods, but your profits and peace of mind. Removing the stress of the unknown is what we take seriously for our customers and it is one reason why more customers choose us for both their large and small product freight needs.
No matter whether you're located in Northern New South Wales or throughout regional and urban Queensland, we can cater to your local store's road freight needs.
If you'd like to learn more, call us on (07) 3396 1911.
* Image source: muammerokumus / Flickr, used under Creative Commons 2.0
---