Road Freight vs Rail Freight
In Australia, we're lucky to have a variety of options when it comes to how we want our freight transported.
Be it air, rail or road, we can certainly choose what's best for us. We've taken a look at how road freight and air freight stack up against one another, now it's time to compare road and rail.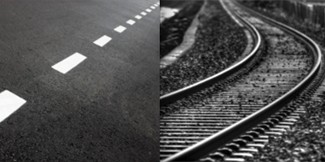 Cost
In terms of the both road and rail freight, their rates have significantly reduced over the last number of decades from what they used to be. Both are comparably cost effective and this is due to advancements in technology, better routes and railway structures, and the efficiency at which services have evolved.
However, one service can be cheaper than the other depending on where you want your goods delivered to. For example, a more localised freight job could quite possibly be cheaper via road freight.
Efficiency
These days a lot more routes have become available to road freight due to the construction of new roads and overall improvement to infrastructure. Working in conjunction with industry improvements and road freight / logistics has certainly become more efficient and timely.
While rail has similarly seen improvements in railway structures and the efficiency of the industry itself, many still believe that the rail infrastructure is lagging behind others. There are concerns that as logistics continues to grow that rail freight will start to fall further behind due to this lack of infrastructure development.
Flexibility
In regards to this category, road freight definitely has the edge. Given the fact that road freight can take multiple routes and detours in the case of road closures or other incidents, it allows the industry to account for contingencies.
For rail freight, however, if tracks need to be closed, there are no guarantees there will be an ideal alternate route. Luckily, railways rarely encounter these issues, but it does make them impossible. It is harder for rail-based freight services to plan for contingencies like road freight services can.
To find out more about Cannon Logistics' road freight services, contact us online or call us on (07) 3217 9211.
---