Safety and the logistics industry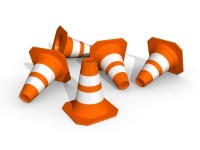 As with any industry, safety is of great importance in every area of the logistics supply chain.
In today's article, we are going to look at some key areas of safety that all logistics companies need to consider.
Driver fatigue / health
An oft-discussed issue within the logistics is driver fatigue. For road freight drivers, transporting goods and/or items from A to B within set deadlines can be quite demanding. When logistics or freight companies fail to get a client's requested items to them on time, this can in turn impact on the client's financial well being. The result of that? This once valued client may drop said logistics/freight company.
Logistics is about efficiency. It runs across all areas of the supply chain. But just because efficiency is paramount does not mean a driver's health should be put at risk. For every freight delivery that needs to be made, truck drivers need to be given an acceptable amount of time to complete their task. These times need to take into account the length of the trip, the amount of sleep a driver is entitled to, and even accounting for additional time spent to account for any potential contingencies. Time frames are usually still very tight as they are, but they should never force drivers into a situation where they need to speed or forego required sleep to make a delivery on time.
Loading and heavy lifting practices
When loading items, particularly in warehouses and onto vehicles, proper safety procedures are paramount. Workplace injuries resulting from improper lifting and handling of heavy items can be very severe, going far beyond just some pulled muscles. These injuries can put workers out of operation for weeks, if not months, and that's without saying anything about possible liability suits that could be levelled at the workplace itself. At all times, proper heavy lifting procedures need to be observed.
Vehicle compliance
Finally, the vehicles themselves have to comply with a number of high standards, the chief one being safety. An unsafe vehicle is a vehicle any reputable logistics company will never touch. Vehicles go through inspections to ensure they're still compliant. If not, they cannot be used until all known issues are resolved, giving companies even more incentive to keep to standards.
---