Samsung seeks to make roads safer with 'transparent' trucks
One of the riskiest things any driver has to do when out on country roads is trying to determine when they can move onto an oncoming lane for the sake of overtaking an oversized vehicle.
The risk, of course, is due to trying to judge when the oncoming lane is empty for long enough that they can speed up and safely overtake without putting their and other people's lives at risk. When behind an oversized vehicle such as a semi-trailer truck, being able to see down the oncoming lane can be exceedingly difficult.
Recently, Samsung manufactured and tested out a series of 'transparent' trucks in Argentina, due to abundance of two-lane roads which often require drivers to overtake vehicles via an oncoming lane.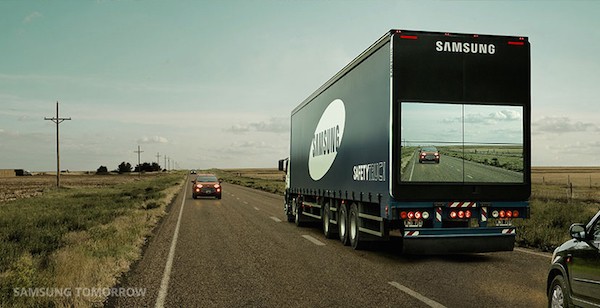 How the transparent truck works
Samsung's line of transparent trucks aren't literally transparent, but rather provide drivers travelling behind them the ability to see what's ahead via an installed screen (comprising four monitors) that sits on the back of the truck's trailer.
With a front-facing camera installed on the front of these transparent trucks, what's happening ahead of each truck is then streamed onto the screen at the back. The cameras include night vision capabilities, meaning clear imagery of what's ahead can be provided day and night.
The purpose is, of course, to remove guesswork for those travelling behind. When the screen on the truck shows that the road ahead is clear (particularly the oncoming lane), drivers can overtake with more confidence and quickly move ahead.
While the trial run of these trucks has ceased, Samsung has noted it will continue to invest in the technology with the help of nonprofits and government regulators. There may be no clear date outlined for when Samsung may hope to have this technology released on a wider basis, but there's a lot of promise in the idea.
You can read more about it here.
Do you think this kind of technology could help make our roads safer? Share your thoughts in the comments below.
---