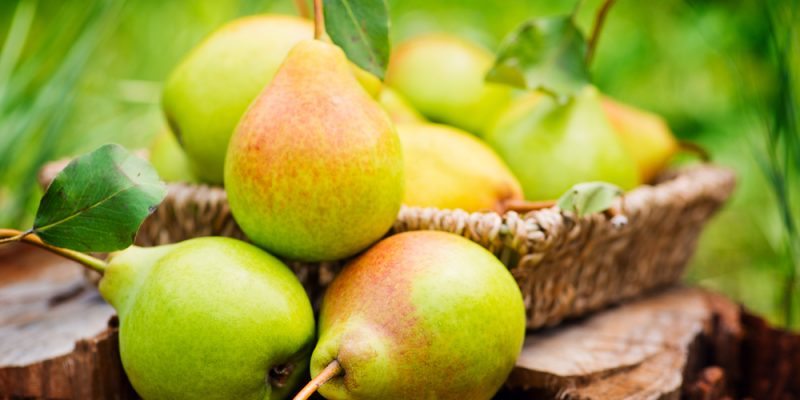 In Season: 10 Ways to use Pears
Pears are at their peak during autumn and winter in Australia, with the most popular varieties of Packham and William Bartlett hitting the supermarket shelves all across the country.
Pears are one the most versatile fruits, with endless options to enjoy them in sweet and savoury dishes, as a accompaniment with cheese or meats, and even just as a healthy snack.
Now that the weather is cooling down, we're taking a look at 10 delicious ways to use pears this winter.
These recipes should appeal to the sweet and savoury tooth's among us:
Just like the slogan goes, it's time to get "more pork on your fork". Pork and pear compliment each other perfectly, with the meaty, full bodied flavour of the pork balancing the sweet softness of the pear. This easy one-tray-wonder is a great winter meal.
2. Spiced pear and ginger cheesecakes
Pear and ginger is another one of those delicious, natural combos. Pears can get quite sweet, particularly when cooked, so the warming, spiced flavour of ginger cuts right through it. This is a super simple dessert recipe if you're short on time, but it's packed full of flavour.
This pudding is always a crowd pleaser. Everyone loves to indulge in a bit of chocolate, and the addition of the pear makes it feel (slightly) healthier. This warm, gooey chocolate pudding will keep you warm on a cold winter night.
4. Pear, pecorino and mascarpone ravioli
This is the perfect cheats recipe for making your own ravioli. You can quickly whip up the simple but delicious filling, and prep your "ravioli" sheets even quicker. This is a great recipe if you want to impress, and the salty, sweet and creamy filling is sure to please everyone.
This is a great way to enjoy pear as a mid-morning treat or on the go. You can substitute fresh fruit for the canned variety required in this recipe. However, using canned pears is much quicker if you're short on time.
6. Glazed pear and sour cream buns
This recipe is a bit more complex and time consuming, but you'll certainly be rewarded for your efforts. Not only do they look great, but these sweet buns make the best afternoon tea treat.
7. Grilled pear and blue cheese salad
This side salad is super quick and easy, but packed with flavour. If you're not a fan of blue cheese, you can substitute goats cheese instead. You could also add chicken to fill the salad out and make it more of a meal.
8. Honey-baked pear breakfast crumble
Crumble's are the quintessential winter dessert, but this recipe gives it a delicious breakfast spin. Natural yoghurt cuts through the sweetness of the fruit and crumble. If you don't have yoghurt, milk or cream would work just as well.
9. Beetroot, pear and feta salad
This is another great pear salad, packed with flavour. It's super simple to make, all you really need to do is assemble all the ingredients. Don't worry if you can't find micro salad leaves, a simple salad mix or lettuce leaves will work. And you can substitute olive oil for walnut oil.
This is a great, healthy idea for smoothie lovers. The banana and pear adds the sweetness (and helps to mask the spinach), but if it's not sweet enough for you, add a drizzle of honey.
---