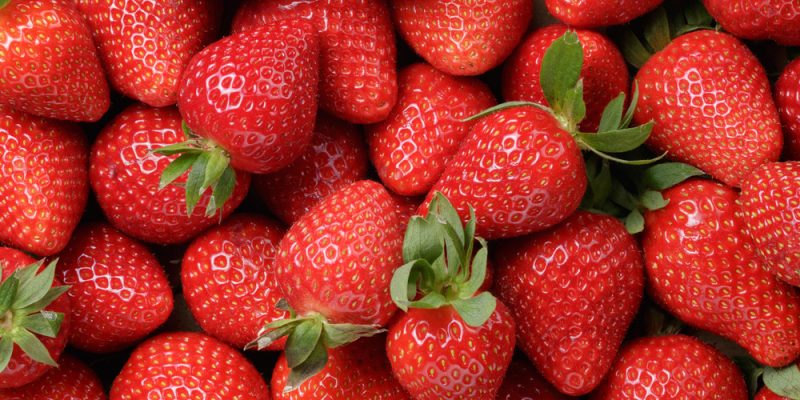 In Season: 10 Ways to use Strawberries
Now's your chance to make the most of strawberries while they're still in season.
Not only are these red berries delicious, they provide a range of nutritional benefits, including being an excellent source of Vitamin C – giving you more than 100% of your daily needs in one half punnet.
They can be used in sweet or savoury dishes, as a great snack, or even as a delicious addition to range of drinks.
Take a look at our favourite 10 ways to use strawberries:
1. Eton mess
Everyone loves a good old Eton Mess. The classic English dessert is easy to make and even easier to eat. If you don't want to make your own meringues, you can pick up pre-made ones at the supermarket.
2. Grilled chicken and strawberry cobb salad
Yes, strawberries in a salad. Trust us, it works. This fresh and healthy recipe is the perfect spring salad. The feta adds a salty creaminess that counteracts the sweetness of the strawberry.
This recipe has 4 ingredients and takes 5 minutes to make. Not only that, but it's super healthy for you and a great way to cool down now that temperatures have started heating up.
Another delicious, simple recipe. This healthy strawberry smoothie is a great way to disguise fresh fruit from the kids; and the sprinkles make it even more fun.
This recipe sounds savoury, but it's actually a sweet dessert – with a Mexican twist. Using tortillas to wrap up the strawberries is a simple alternative to crepes and a delicious one too.
6. Strawberry and ginger muffins
Muffins are a great breakfast or snack idea, and these ginger and strawberry ones are a delicious and healthy choice. If you don't want to use macadamia oil, you can substitute vegetable oil.
Making jam is not as hard as you think. This recipe only requires 3 ingredients and 40 minutes of your time. It makes the perfect gift as well (Christmas is not that far away!).
Want to make something to impress friends and family? This strawberry focaccia recipe may be a bit more complex than the others on this list, but the sweet, salty, bready result is all worth it.
9. No-bake strawberry and mango torta
Make a delicious and impressive looking cake, without all the fuss. Using pre-made Madeira cake, you can throw this together in minutes. All it needs to do is rest overnight to set.
10. Chocolate dipped strawberries
Need a quick and easy dessert idea? Then chocolate dipped strawberries is definitely for you. All you need is a block of chocolate of your choice, strawberries, and maybe some shredded coconut or nuts to sprinkle on top. Done!
We've got you covered if you're looking for Refrigerated Transport in Gladstone.
---