Simple Catering Tips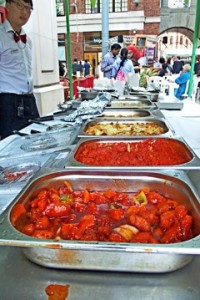 If you're involved in the catering industry, here are a few tips and pointers worth keeping in mind.
Hygiene
Of course, if you're involved in the catering industry then you're going to know the value of hygiene. But while some may define it as overkill, hygiene needs to be adhered to in a very puritanical way. Hands need to be washed frequently, cooking utensils and cutting boards cleaned regularly to ensure no cross-contamination and, importantly, that illness does not spread throughout the staff.
While it may be fine for an employee to come in on a day where they're feeling unwell in certain professions, it's a huge DO NOT in the catering world. A simple cold can not only cause others to fall ill and reduce the number of available staff you have for jobs, but it can also contaminate food and cause patrons to fall ill. If your catering business is accused of making others unwell, it could lead to a massive and very public shot at your image.
Be mindful of the time of year
Bacteria breeds quickest when meats and other foodstuff are exposed to the heat. Given that Australia can have such extremes in temperature (of note are the blistering hot summers we can experience), these rapidly changing conditions can impact on how long certain food should be kept out of the fridge or held onto in general. Hotter conditions also means you may need to revise the time in which you allow meats to thaw outside of the fridge. As a general rule of thumb, however, it's always best to thaw goods in the fridge for 24 hours.
Make sure you have plenty of supplies
Catering is as much about maths as it is about food preparation and serving. While you do need to balance costs vs supplies, it's always best to have more than you need. Because even if you happen to end up in a situation where you'll need to throw out unused goods, it's better than running out and leaving your customers disenchanted over your service.
You don't have to transport everything yourself
Many catering companies tend to use catering vans as opposed to trucks, and for the most part such a setup may be ideal. But from time to time you will likely receive jobs that require more staff, more foodstuffs and, importantly, more vehicles to transport those goods. If you ever find yourself in a situation where you aren't able to transport everything you need, consider hiring the services of a freight or logistics company to move those remaining items you simply can't move yourself.
If you'd like to find out more about Cannon Logistics or our refrigerated freight transport services, give us a call on (07) 3217 9211.
---