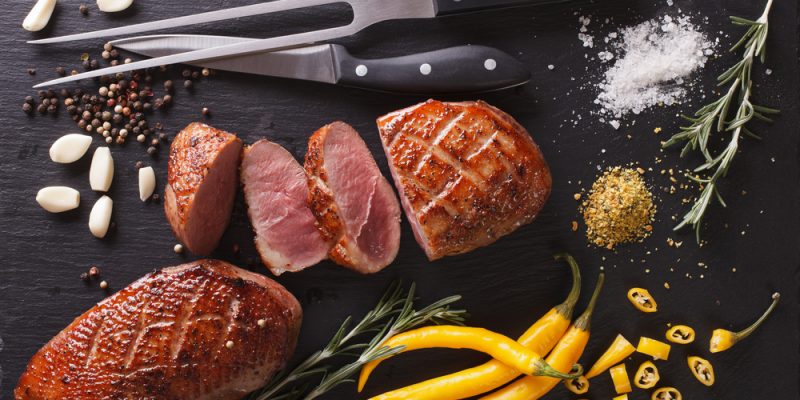 Spotlight on Duck
Duck is often overlooked for its more popular poultry cousin, the chicken. But duck is a rich, delicious, and nutritious alternative to chicken and it's not as hard to cook as you think.
Origins
Eating duck meat dates all the way back to the Egyptians around 1300 B.C. The Southeast Asians were also raising ducks in captivity prior to 500 B.C and there is evidence the Romans also enjoyed eating roast duck. Until the 19th century, ducks were kept mostly for eating rather than their eggs, but now duck eggs are becoming a popular alternative to chicken eggs.
Did you know
Nearly all duck breeds today can be traced back to the wild Mallard. There is only one duck which isn't a descendant of the Mallard – the Muscovy duck. It's a large, heavy duck, originating from of Central and South America.
Health Snapshot
Duck is a good source of protein. It (like all meats) provides complete protein, which means that its amino acid profile includes each of the amino acids you need in your diet.
It's a rich source of selenium and zinc. Both play a role in enzyme function and activate enzymes needed for healthy cellular metabolism.
Duck contains Vitamins B5 and B12. Both of which support nervous system function – vitamin B5 helps you make chemicals involved in nerve signalling while getting enough vitamin B12 in your diet protects you from nerve damage.
Duck also contains generous amounts of iron, phosphorus, copper, thiamin, riboflavin, niacin, pantothenic acid, Vitamin B6, and lesser amounts of Potassium, Magnesium, Vitamin E, Vitamin A, Vitamin C and folic acid.
Selection & Storage
The demand for duck isn't as high as other poultry like chicken, so you will often find duck in the frozen section of the supermarket. It normally comes in breast fillets. If you find fresh duck, look for a deep red colour, a good layer of fat on one side, and no indication of drying out. You may be able to find whole ducks at a good butchers shop.
Once you get duck home, refrigerate immediately and use within 1 or 2 days, or freeze in its original packaging. If kept frozen continuously, it will be safe indefinitely.
If you're buying a cooked duck, make sure it's hot when you pick it up. Use it within 2 hours, or cut it into smaller pieces and refrigerate in shallow containers and consume within 1 or 2 days.
Foodie musts
A favourite Chinese dish is Peking duck pancakes. Simple and fun to put together for the whole family.
Or why not try roast duck with Marsala gravy this winter?
Or if you are able to get your hands on a cooked duck, try this delicious Duck noodle soup.
And if you're unsure of how to cook duck, here's a great step-by-step guide for cooking duck breast.
---