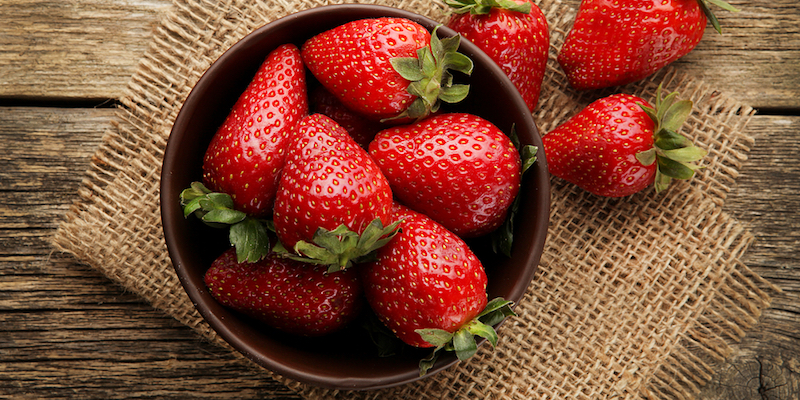 Spotlight on Strawberries
Have them atop your ice cream sundae or perhaps make the ice cream itself from strawberries; throw them in a garden salad; have them as a key component of your smoothie (try strawberries and banana, yum!); spread them as a jam; or have them with as they are with cream – whatever your fancy these small, sweet fruits can be absolute delight when served at their best and in season. In this post, we shine a quick spotlight on strawberries and share some of the health benefits and tips for enjoying them.
Health Benefits
There are numerous health benefits to be had when including strawberries in your diet. Here are just a few –
An excellent source of vitamin C:

just 100g of strawberries can supply a whole day's worth of Vitamin C. Eight strawberries contain more vitamin C than one orange.
Heart health:

the flavonoid quercetin, contained in strawberries, is a natural anti-inflammatory that appears to reduce the risk of

atherosclerosis

and protect against the damage caused by low-density lipoprotein (LDL) cholesterol in animal studies.
Blood pressure control:

due to their high potassium content, strawberries are recommended to those with high blood pressure to help negate the effects of sodium in the body.
Diabetic diet:

Strawberries have a low glycemic index food and are high in fiber, which helps to regulate blood sugar and keep it stable by avoiding extreme highs and lows.
Anti-ageing: Several preliminary studies on intake of strawberries on aged animals has shown enhanced cognitive function (in the form of better object recognition) following ingestion of a diet with 2% of the calories provided by strawberry extracts. Enhanced motor function (in the form of better balance and coordination of movements) has also been shown in these strawberry extract studies.
Selection and Storing Tips
June to October

is the season for Strawberries here in Queensland.

Choose strawberries that are plump, bright and even-coloured. The flavour is influenced by different varieties and also ripeness. Some of the small varieties are usually tastier.

Caps should be green and fresh looking. A stained box may indicate that some of the berries in it are overripe.

For fresh strawberries – place unwashed strawberries in a single layer on a paper towel on a plate; cover and refrigerate; and use within 3 days.

Strawberries are also available frozen, dried, and in jellies, syrups and jams – make sure to check labels for added sugars, sweeteners and fillers.
---