Staying Safe this New Year – Fight Driver Fatigue
We've discussed the issue of driver fatigue a few times before here at Cannon Logistics refrigerated transport, but it's something so important to reiterate.
As we now welcome in the new year, 2013 should mark the commitment to some new year's resolutions. If you're a truck driver or involved in any aspect of the transport industry, it's very important that you make a resolution or a recommitment to ensure you never fall victim to driver fatigue.
Regardless of whether fatigue leads to impaired concentration, a flash of microsleep or outright sleep, the consequences of such events can not only risk your life but the lives of other drivers. The Queensland Government offers advice on how you should go about determining how much sleep you need in respect to hours of driving you're expected to do.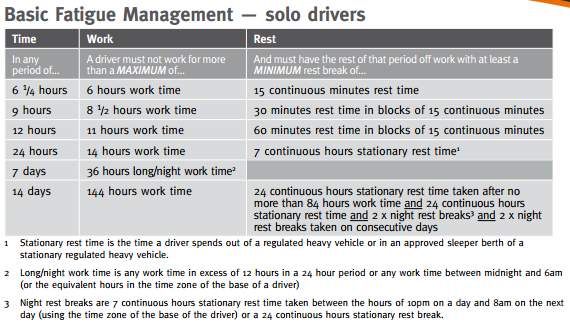 Planning
Planning your trip should also be a large factor in how you manage driver fatigue. Map out your route and identify rest areas or, if you're driving for a number of days, places that you could stay at for a proper nights sleep. By knowing where your nearest towns and rest areas are, you can manage your rightful amount of sleep so that it won't impact on delivery deadlines.
Nap
As a truck driver, you'll be well-versed in taking naps throughout your trip to maintain energy levels and the ability to stay alert. Just remember that naps should be short – around 10 minutes. Whatever you do, do not nap between 20 to 30 minutes as you could then start going into deeper sleep (REM sleep), and waking from that will only make you more tired.
What's most important to remember is that if you believe you're starting to feel tired, it's time to rest, regardless of whether you can only afford a nap or a proper night's sleep. Don't ever drive tired and don't forget to get out of your truck everyone once in a while to stretch your legs and breathe in some fresh air – even this simple act will keep you more alert.
To read up more on driver fatigue and how to combat it, check out our Education page and read the materials provided there. If you would like to enquire about our freight and logistics services, give Cannon Logistics a call on (07) 3217 9211.
---