Top 5 Queensland Food Festivals by Cannon Logistics
Here at Cannon Logistics, we love a good food festival.
If you're interested in what this year has in store, we have listed 5 great food festivals both in regional and city areas.
1. Caxton St Seafood and Wine Festival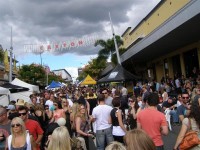 Happening on the 6 May 2012, Brisbane-based Caxton St Seafood and Wine Festival mixes seafood, wine and music for you to revel in.
It runs from 11am until 11pm and it costs $26.90 per person. You can pre-order tickets from the website.
2. Noosa International Food and Wine Festival
The Noosa International Food and Wine Festival is considered one of the best – if not the best – food and wine festival in Australia. Running for four days from 17 – 20 May 2012, the festival has over 180 renowned national and international chefs.
Included are cooking demonstrations, wine tastings, culinary exhibitions, music and other entertainment. Entry will cost adults $65 and children $20.
3. Hervey Bay Seafood Festival
A festival that happens on the second Sunday of August every year (August 12 this year), the Hervey Bay Seafood Festival has been running since 1998. The festival showcases local produce and includes demonstrations and purchasable produce.
A food, wine, music and art festival located in Goondiwindi, Gourmet in Gundy occurs on the second weekend of each September. This year it is on the 8 and 9 of September. Entry is $10 for adults, $5 for concession, free for children, and $25 for a family.
The Real Food Festival is held at Maleny in Sunshine Coast Hinterlands. It is renowned for its quality local produce and beverages and the accompanying scenery. Like Gourmet in Gundy, the Real Food Festival is being held on 8 and 9 of September. Entry is $12 for an adult for 1 day or $20 for both. Children under 16 years enter for free.
Planning to go to any of these? Are there any other festivals you're looking forward to? Share in the comments below.
---