Transport and severe weather – 4 precautions to take
The summer season in Australia is one of the most unpredictable and hazardous times of the year for all Australian states and territories.
Whether it's extreme heat, punishing humidity, rain, hail, electrical storms, cyclones or any other act of nature where situations can change at the snap of your fingers, you need to be wary of just how quickly things can go from good to bad. When your job requires you travel long distances (such as road freight), then such turns in weather can be of grave concern.
To help you remain safe when the weather could turn on you, be sure to observe the following steps.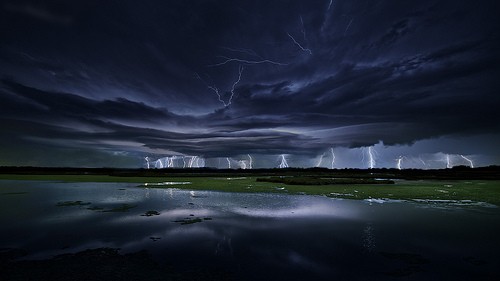 1. Take supplies with you
When you're out driving, no doubt you do take supplies with you – food, water, etc. But it's also worth considering taking additional supplies with you. So this could be extra food and water, but also a few changes of clothes, cold-weather clothing (even though it's summer a mix of heavy rain and wind can turn things cold fast), a radio and spare batteries, spare tyres (or two) and basically anything that you can use in the event you will need to hold out for a few days in between towns.
The thing about severe weather is that it can strike anywhere, even if you're hundreds of kilometres from the next town.
2. Keep your mobile phone charged
It doesn't need to be said that you should take your mobile phone with you. Of course you would. But make sure that you can keep your mobile phone charged either through connecting it to a vehicle's cigarette lighter or, more common these days, a USB port. Most smart phones can last a good few days without being charged, but that's entirely dependent on how you use them. If you keep using it to kill time, then the battery will drain rapidly. But if you put your phone into power saving mode and hold off on using it except for specific emergency calls, then it should last you a good amount of time before the next recharge is necessary.
3. Listen
While it may be tempting for some of us to avoid the news, when you're travelling long distances, it's important to listen to news updates from time to time. If you're going out on a job and you know that a severe weather condition may have the potential of crossing your path, then you need to make a concerted effort to listen to news updates even more often. Things can change quickly, the path and movement of a storm cell can abruptly shift. So keep listening to the weather reports and any associated emergency service announcements. Follow the advice of emergency professionals. After all, it's…
4. …not worth taking risks
Most important, do not take risks just in the name of getting your job done. If a road is closed off, a town inaccessible, an area of bushland on fire, or a vicious storm is currently happening… Just wait it out. While businesses do expect efficiency, no good business would ever expect you to put your life at risk to get a job done. If they do, then it may be time to look for a new employer.
Have any other tips for those dealing in transport and what they should do in the event of severe weather? Be sure to share them with us in the comments below.
* Image source: Bill Collison
---