3 of the World's Most Dangerous Roads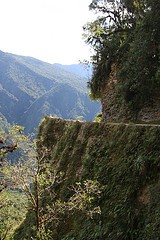 As any Queenslander would know, some of our roads could do with some improvement, but what we can be thankful of is that none of our roads are that bad in comparison to three of the world's most dangerous roads.
From plunges to death to some of the longest car lineups, the following three roads have certainly earned their reputation as quite possibly the three key roads you're best never venturing on to.
1. Roads in Nepal, Tibet and Bangladesh
Now, when we're talking about the roads in these three countries, we're talking about a very specific type of road – chiefly any of the roads that lead to Mt Everest. Most of these roads climb up to high altitudes and are very poorly maintained, with the majority of them being nothing more than dirt roads with eroding sides.
Trepidation is an absolute necessity, as is the importance of ensuring you have a tough vehicle that can handle the rough terrain these Mt Everest-bound roads bring with them.
2. Russian Siberian road to Yakutsk
If you're hoping to drive to the city of Yakutsk in Russia, then chances are you will have to take the only official government highway in. So what's the problem? Well, first of all, traffic is absolutely crazy. It is not uncommon for traffic lineups of up to 100 km to occur, which can take up to a week end. It's even believed a birth has happened during one of these lineups.
But it's not just the traffic jams that present a danger to health, but the road itself. In the warmer months it's a mess of a dirt road. If a good amount of rain occurs, cars get bogged down and some even sink into the earth so deeply that it's near impossible to get them free. Bad weather mixed with 100 km-lineups have even justified the necessity for food supply drops in the past.
Last but not least, in the winter the road becomes consumed in snow. Needless to say, things can be even worse in the coldest months of the year.
3. North Yungus Road, Bolivia
To this day, North Yungus Road holds the reputation for being the most dangerous road in the entire world. Nicknamed "Road of Death", it runs in the Bolivian Andes for 70 km from La Paz to Corocio and has a plunge of up to 3,600 metres to certain death below. Not only that, but the road is poorly maintained, extremely narrow and is full of sharp hairpins and sudden abysses that run the entire length of the 70 km run.
Believe or not, there's more. Because this road is situated in the mountains, it is more often than not shrouded in fog that keeps visibility extremely low. Some people may drive the trail to have a brush with death, but many people must take this route as it's the only means to get from point A to point B. Each year, the "Road of Death" claims somewhere between 100 – 200 lives.
Any other dangerous roads you believe deserve a place along with these entries? Be sure to tell us all about them in the comments below.
* Image source: efe jota
---