4 common challenges faced by hotels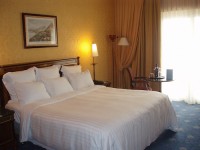 Hotels face a unique set of challenges given the size and scope of the services they provide. In today's blog, we discuss just some of these core challenges they have to account for.
Labour
The efficiency with which all employees perform their tasks in a hotel is integral to its overall success. While sizes vary, medium-sized and large hotels in particular often have hundreds of staff to account for. If one staff member falls behind, it can impact the entire hotel's reputation.
Say, for example, a guest complains of a water pressure issue with their shower, they expect a staff member to be up quickly to resolve the issue – regardless of the actual size of the hotel. If staff doesn't arrive "in time", that can be enough for a guest to leave a bad review or advise their friends and family not to visit the hotel. Needless to say, there's plenty of pressure on achieving efficient and well-balanced labour.
Making sure everything is clean
There's a reason cleaners come in every day to clean a guests' rooms. Cleanliness is an extremely important – and costly part – of running a hotel. Guests expect their rooms to be in pristine condition when they arrive, and health and safety requirements also drive the necessity for a level of cleanliness you're unlikely to ever to experience at someone's own home.
Hotel managers will also inspect common areas (public bathrooms, pools, etc.) to ensure they're clean, and may do the same for rooms prior to new guest arrivals. Even if they have to the utmost trust in their fellow staff, they still need to inspect.
Management and hotel logistics
In a more overarching sense, just the process of managing a hotel can be an overwhelming experience. Imagine being responsible for ensuring that every little cog in the hotel machine is functioning properly. This can include accounting for all staff, ensuring you have substitute staff when core staff are away, addressing any sudden issues, dealing with customer complaints, and being held accountable whenever something manages to slip through the cracks. The mere logistics of running a hotel is a true challenge.
Supply
Supply is also an important factor and critical challenge faced by hotels. If they don't have the right freight/logistics provider and run out of necessary supplies, it can put everything else out substantially. Having a reliable logistics company delivering goods and produce on time helps in keeping everything else running smoothly.
---