5 tips to a great road trip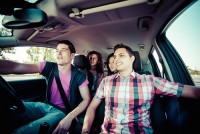 A fun road trip is the best kind of road trip. Ensuring you have fun isn't so much about planning as it is learning to enjoy every moment and explore places you've never explored. So if you're road-bound soon, make sure you take note of the following five tips.
1. Have a plan, but don't overplan
If you're hitting the road and intend to be on it for a number of weeks (or months), then finding the right balance between knowing where you ultimately to go and the places you should see along the way really matters. Plan your road trip too rigidly, and it's going to ruin the fun of actually discovering things along the way.
More importantly, a rigid plan rarely ever works out. It may seem appealing to have each step of the tip entirely mapped out, but it'll only serve to frustrate and disappoint you when you realise things never go 100% as planned.
2. Cut down on contacting the outside world
There are a couple of reasons for this. The first is that this will help ensure you don't chew through your phone's battery as quickly, thus requiring less recharges throughout the course of the trip. The second is because a road trip should be enjoyed as much as possible by those who are on it.
Yes, use your phone to take photos, but don't go around calling everyone who's not on the trip with you. Enjoy it with those who are accompanying you. Because when the trip is over, it will ensure you have plenty of memories to reminisce over with your fellow road trippers.
3. Have a spare key
This is a very basic – and obvious – one. But trust us, you'll need to make sure you have a spare car key on you. This goes the same for a spare tyre and a first aid kit is a must.
4. Actually stop off in the small towns
Don't be so quick to go straight through a small town along the way to your ultimate destination. The small country towns, the villages, and the random sights (and sites) are all what make up the best parts of a road trip. Remember, it's the journey that matters, not the destination – well, the destination matters, too, but it shouldn't be your primary focus all the time.
5. And don't forget to stop off at petrol stations
Beyond the obvious reasons of stopping for petrol, many of those petrol stations that line the roads can have some pretty interesting and unique qualities. Sure, you probably won't encounter anything special in a congested city petrol station, but the ones along motorways or long stretches of country road can include eateries (whether it's fast food or diner food) and may include something unique to the area itself.
If nothing else, you can get snacks, refuel (the car and your stomachs), go to the bathroom and simply have the chance to relax and take time off from driving around.
---