Cannon Logistics: Shooting Ahead
This article originally appeared in Maxi-Cube's MaxiNEWS, Issue 11 – 2015

As a young business in the refrigerated transport market, establishing strong ties within the industry is the key to surviving that crucial start-up phase. That's why Zac Popov, Director of Cannon Logistics, took the advice of one of his trusted suppliers when it came to his latest equipment purchase.
One key partner who assisted Cannon Logistics to cement a foothold in the market is temperature-controlled trailer manufacturer, Maxi-CUBE, which has played a leading role in building Cannon's fleet of 18 single refrigerated vans, all purchased from Maxi-CUBE's Queensland dealership, Trailer Sales. Each van is 48-foot (14.6 metres) in length with the capacity to maintain a temperature of -23 degrees while being used for multi-pickups and deliveries.
On Zac's most recent order, Trailer Sales' Scott Thiesfield introduced Zac to a range of new features, including Maxi-CUBE's flat distribution floor with 'Maxi-GRIP' finish and a Dual Evaporators (dual temperature) setup. "I knew that the improved refrigerated model was exactly what Zac was after to step it up a notch," says Scott. "Knowing the focus was on safety, we suggested Maxi-CUBE's Maxi-GRIP Floor which is pivotal for refrigeration fleets, because it reduces the risk of injury due to wet or slippery floors and is suitable for using both pallet jacks and fork lifts."
"In addition, the Dual Evaporators allow the cool temperatures to be equally distributed to all corners of the van allowing for the stock to maintain its freshness at all times even when the doors are open during delivery," he said.
After inspecting the new design, Zac was happy with the added safety the Maxi-GRIP floor offered and was particularly impressed with the extra peace of mind provided by the Dual Evaporators. "In the cold storage and distribution industry, there's nothing worse than compromising the goods you carry through poor temperature management," he said. "It causes unnecessary delays in deliveries and costs us money. This new design alleviates the possibility of damaged goods and keeps the vans on the road where they should be."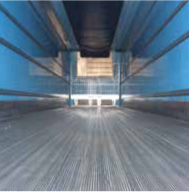 Above: A sample piece of Maxi-CUBE's Maxi-GRIP distribution floor, which reduces the risk of slips & falls.
Below: Dual Evaporators have given Cannon Logistics Managing Director, Zac Popov, greater peace of mind that all goods will remain at the required temperature for the entirety of the trip.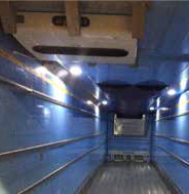 ---