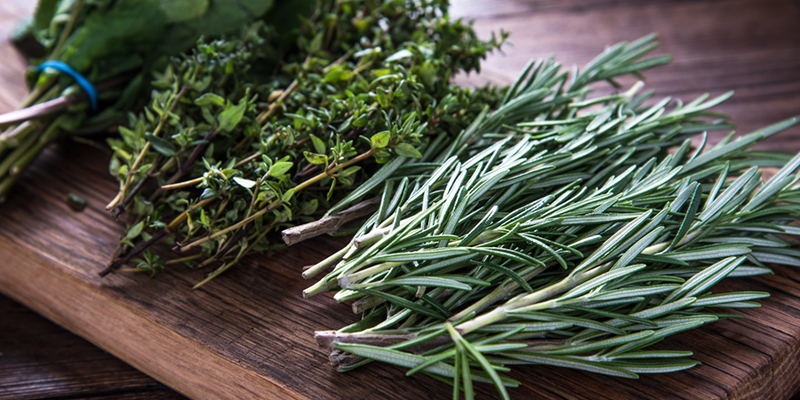 The Health Benefits of Herbs
Take your place at nonna's kitchen in Italy as you prepare an unforgettable pasta dish, or sit beside bà nội as she picks out the fresh ingredients for a delicious Pho noodle soup – no matter where you are in the world, herbs play a big role in cuisine that delights. But it's not just for creating unique taste profiles, herbs also have unique sets of health benefits too. In this post, we take a closer look at the health benefits of herbs and how you can best incorporate some of them into your daily diet.
Why add herbs to your diet?
Herbs have been used since

ancient times for their medicinal properties

, mostly concentrated into teas and tinctures. Herbs add a burst of flavor to food, allowing you to cut back on salt without sacrificing taste. And several herbs, including parsley, have significant amounts of the essential vitamins A, C and K.

To improve the overall health of the body, herbs have been playing a major role for decades;  they help in healing wounds faster, make up for nutritional supplements and also deliver a host of benefits. Herbs strengthen the immune system, lower blood sugar and cholesterol, have anti-inflammatory properties, and prevent Alzheimer's diseases and various types of cancer.

The true power of herbs lies in the

abundance of protective polyphenols

in them — plant compounds with potent antioxidant and anti-inflammatory effects. Numerous studies show that polyphenols in herbs help combat such diseases as cancer, heart disease, Alzheimer's, diabetes and more. Polyphenols are anti-microbial, so they can help protect us from harmful bacteria as well. Although many of the studies on herbs' effects have involved concentrated solutions of the leaves' active components, there is evidence that their benefits still apply when they are cooked and eaten as part of a regular meal, too.

Essential oils in herbs have been found to have anti-inflammatory function by inhibiting the enzyme cyclooxygenase (COX), which mediates inflammatory cascade reaction inside the human body. The

enzyme-inhibiting effect of essential oils in herbs

makes it an important remedy for symptomatic relief in individuals with inflammatory health problems such as rheumatoid arthritis, osteoarthritis, and inflammatory bowel conditions like ulcerative colitis.

Controlled-epidemiological studies have shown that certain compounds in

garlic

like those that thiosulfinates (allicin) can bring significant reduction in total cholesterol and in blood pressure, and thereby, helps cut down coronary artery disease and stroke risk.

Herbs eliminate the

nutritional deficiencies

in your body and thus restore the correct function of the body. Herbs rectify problems rather than suppress them.
Where to find them
More common herbs, such as coriander, parsley, basil, sage, thyme, mint, rosemary and chives are usually available all year round at your local markets, but you will also find some variations such as Vietnamese mint are only available seasonally. Other herbs such as dill, kaffir lime leaves, lemongrass, lemon myrtle, marjoram, sage, tarragon etc. are available through specialist growers. Take a look at The Sunshine Coast Regional Food Directory which showcases herb growers on the Sunshine Coast. Some herb farms also offer tours and in cases they don't, are still happy to share their own extensive knowledge. For those located more North, The Village Herb Farm supplies high-quality fresh herbs to customers throughout Northern Queensland.
Selection & Storing Tips
When buying cut herbs

, make sure the leaves are not wilted or yellowing — they should be bright or deep green, depending on the variety, and perky looking.

Regardless of how carefully you select or refrigerate them, fresh cut herbs are highly perishable. The tenderest leaves (like basil) usually won't last more than a week in the fridge. Firmer types (like parsley) will keep a bit longer, and hearty rosemary and thyme will last a couple of weeks.

To preserve them longer

, chop them and place in ice cube trays with stock or water. Freeze; then transfer the herb cubes into a plastic bag and keep frozen to add to soups, stews and sauces.

Although fresh herbs offer a clean, bright flavor and springlike appeal, don't write off dried, which have upsides of their own.

Dried herbs are easy to keep on hand,

and they are at least as beneficial as fresh, if not more so, because the drying process actually concentrates the polyphenols and flavors. Keep in mind that, as a rule, if a recipe calls for one tablespoon of a fresh chopped herb, you can generally substitute one teaspoon dried.
Getting more into your diet
Fresh healthy herb leaves can be used in the preparation of soups and herbal sauces. 

Chopped, fresh herb leaves can impart richness to vegetable, as well as fruit, salads.

Along with other spicy items, selective healthy herbs are being used to enhance the flavor and taste of vegetable, chicken, fish and lean meat dishes.

Some herbal leaves and plant parts are increasingly been used as popular flavor drinks.
---