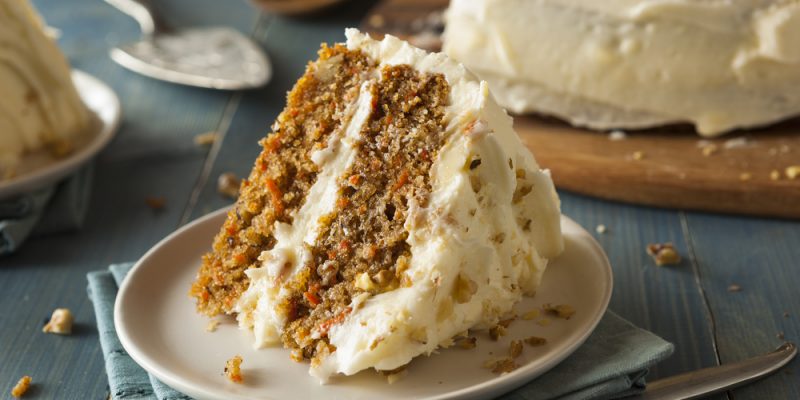 In Season: 10 Ways to Use Carrots
Australia loves carrots. In 2013, they were officially the most commonly purchased vegetable in the country, with around 94% of consumers adding them to their grocery cart. Eaten in sweet or savoury dishes, salads, drinks, or even raw as a healthy snack, carrots are versatile and have the highest levels of beta-carotene of any vegetable.
Carrots are in season over Autumn from March to May, so now's the time to try out a few of these carrot recipe ideas:
1) Carrot cake
The origins of carrot cake are disputed, but there's no denying that Australia has embraced it as it's own. Often enjoyed as an afternoon tea treat, carrot cake has the perfect balance of sweet, nutty carrot cake with rich cream cheese icing.
There are so many variations of hummus, but adding grated carrot to the mix gives the dip a delicious, earthy sweetness. Not only that, but it adds another healthy element to this already healthy snack.
Move over sweet potato, the next big chip is the carrot fry. The sugars in carrots caramelise perfectly when roasted in the oven and they make a nice and healthy side-dish to any meal.
Vegetable juice doesn't have to be unappetising. By adding carrot to your next vegetable or fruit juice, you will get a delicious, natural sweetness. Try it with beetroot and ginger for the perfect liver detox and vibrantly coloured drink.
This is a great raw, vegan alternative to a heavy pasta dinner. Use a julienne peeler or mandoline to grate the carrots into thin noodle strips. You can enjoy them raw or blanch them in boiling water to take the crunchy edge off.
6) Carrot, lentil & coconut soup
Now that it's starting to get cooler, it's the perfect time to get back into warming soups. Carrot soup is a delicious hearty base and the addition of lentils and coconut milk gives it a flavoursome Indian spin.
If you're stuck for a quick and easy lunch, warm carrot salad is a great solution. You can customise this recipe to include whatever you have in your fridge.
There are many uses for pickled carrots. They make the perfect side-dish or garnish to any meal and are great on sandwiches, wraps, or atop salads. But one of the nicest ways to enjoy pickled carrot is in Bahn Mi, the Vietnamese pork roll, heavily influenced by French cuisine.
Everyone loves a Sunday roast, and maple roasted carrots are the perfect addition to the spread. The maple syrup adds to the gooey caramelisation of the carrots. Just pace yourself, as this is quite a rich side-dish.
Who knew carrots and oranges would go so well together. They're not just the same colour, but their flavours compliment each other perfectly. Enjoy on toast or as a dollop atop your favourite pudding.
---