Installing a cold room for your business
If your business operates in the area of foodservice, then it will likely require the use of a cold room.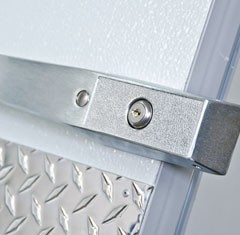 Cold rooms are designed to provide temperature regulation and keep produce from spoiling, much like your fridge or freezer at home, but on a larger scale. Supermarkets, caterers, restaurants, and those in hospitality all have need of cold rooms. However, before investing in a cold room for your business, there are some basic factors to take into consideration.
Types
When installing a cold room, you'll first need to make a key selection between either freezer or chiller, as ideal temperatures will vary across different produce. Chilled items, such as prepared meals and dairy products, should be housed between 0 and 5 C. Meanwhile, frozen goods, such as raw meats and seafoods, should fall between -18 C and -20 C.
While you'll likely follow these habits at home already, the same rules still apply with larger, commercial cold rooms. Granted it would be preferable to house all your items within a singular structure, but compromising on temperature will spoil your produce fast and cost you more money than you might have might have saved otherwise.
Size
As a general rule, cold rooms of the same type should be connected as it's far more economical and maximises storage space. In other words, the cost to produce airflow within two smaller rooms is expectedly higher than powering a single, larger room.
What is key, then, is deciding on what is the best sized room for your business. Cold rooms can range from standard 'walk-in' rooms, to industrial rooms designed for mass storage and distribution.
Walk-in cold rooms are the most common type of installation offered to businesses. Chances are that if you've visited a bottle shop, then you've already entered a walk-in cold room to purchase pre-chilled goods. These rooms are best suited for those operating restaurants, small convenience stores, and those in the catering industry.
Conversely, with bigger demand comes the need for larger cold rooms, and these options are available too. For instance, catering for a large mess hall on an army base would typically require something bigger than a walk-in cold room. Likewise, food distribution warehouses typically invest in supermarket-sized rooms to house mass produce, as well as allow additional space for the manoeuvring of forklifts and pallet-movers, and docking bays for trucks.
As such, keep these points in mind when discussing with a professional what size cold room is best for your business.
Freezer safety
While working in a freezer generally only applies to large industry operations, it's an important topic to address because prolonged exposure can be detrimental to one's health. If you need to be within a freezer cold room for more than a few minutes, be sure you're outfitted with proper gear i.e. insulated jackets, pants and boots. Typically, we lose heat from the 'extremities' of our bodies, so endeavour to cover up your head with a beanie or hood (most industry-grade jackets have these attached already), and wear gloves and thick socks.
In regards to safety, your gear will also need to be 'high-visibility' if you're working around machinery, and you'll need to take a ten minute break every hour at room temperature. Many businesses provide warm-up rooms with heaters, so be sure to utilise these if they're available to you.
Lastly, make sure your cold room is well lit – psychologically, a dark room 'feels' colder than a light one, and also promotes unnecessary dangers due to limited visibility.
---